Medium-term Management Plan

AGC has formulated a medium-term management plan,

AGC plus-2023

. The financial targets and key strategies of this plan are described below.
Management and Financial Targets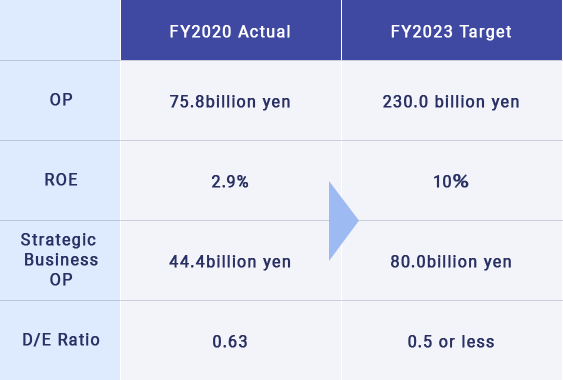 Key Strategies
Key Strategies 1
1. Pursuing AGC's Ambidextrous Management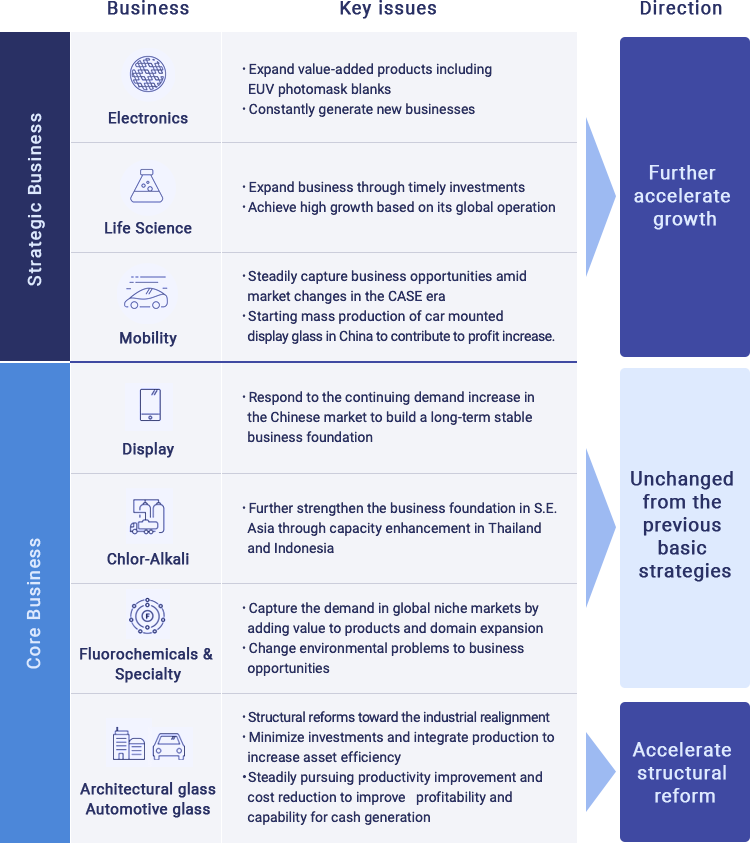 AGC plus-2023 will further pursue its ambidextrous management style and accelerate growth in strategic business areas while exploring new business areas such those related to energy. By 2023, we aim to achieve sales of 350 billion yen and operating profit of 80 billion yen in strategic businesses.
On the other hand, in architectural glass and automotive glass, by 2023, we will reduce fixed costs and other costs under both businesses by 15 billion yen or more from the 2019 level, by shifting to production capacity that correspond to demand, concentrating production through the introduction of highly efficient facilities and reducing headcount. In addition, as an industry leader, we launched a structural reform project for architectural glass headed by the CFO to carry out structural reforms with a sense of urgency and a view to reorganizing the industry.
Capital Allocation Policy
Regarding the allocation of investment resources, we plan to reduce investment in our core businesses, mainly glass, and increase investment in strategic businesses by 100 billion yen as compared to the previous medium-term plan.In addition, we will accelerate the sale of assets, including all the available cross-held shares.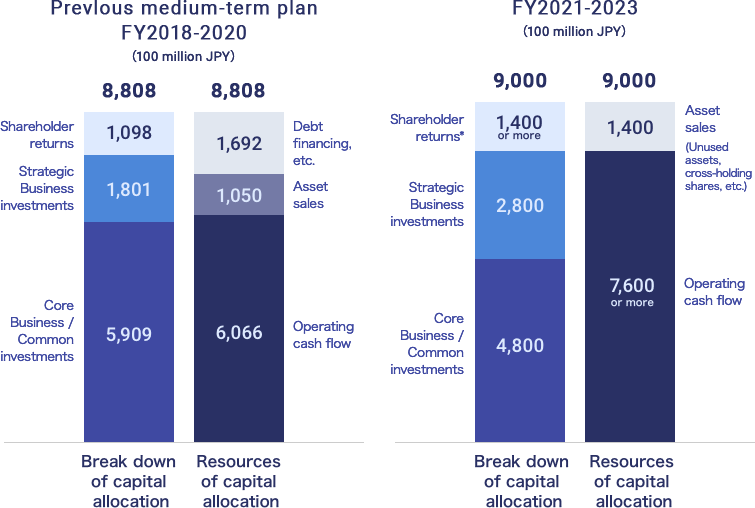 ※Including payment of dividend to non-controlling interest shareholders
By 2023, we aim to maintain Group-wide ROCE (return on capital employed) of 10% and to improve EBITDA by approximately 60 billion yen.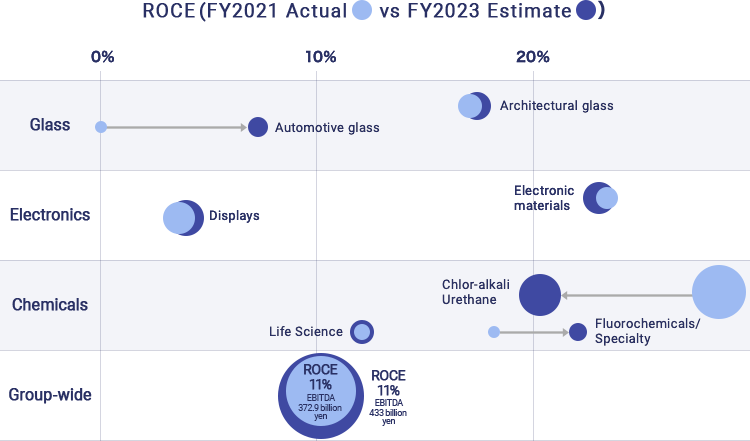 ROCE :(OP forecast of the year) ÷ (Operating asset forecast at the year end), OP by business is before allocation of common expenses
Diameter of each circle (excluding those of the group-wide section) :the size of EBITDA
Key Strategies 2
2. Promoting Sustainability Management
Since its foundation, AGC has been working to solve social issues in response to the demands of the times through long-term R&D and taking on the challenges of commercialization based on a relationship of trust with customers.
We will continue to fulfill our mission of "AGC, an everyday essential part of our world" and contribute to the realization of global and social sustainability through our unique materials and solutions.
In 2014, we set a goal of reducing annual CO2 emissions by 6-times by 2020 through energy-saving and energy-creating products, and have largely achieved this goal. Now we have now decided to set an even higher goal of "net zero" carbon emissions to be achieved in 2050, aiming for the realization of a sustainable global environment. As a milestone, we have set the targets of reducing greenhouse gas emissions by 30% and greenhouse gas emissions per unit of sales by 50% in 2030, and will steadily work towards achieving these initiatives.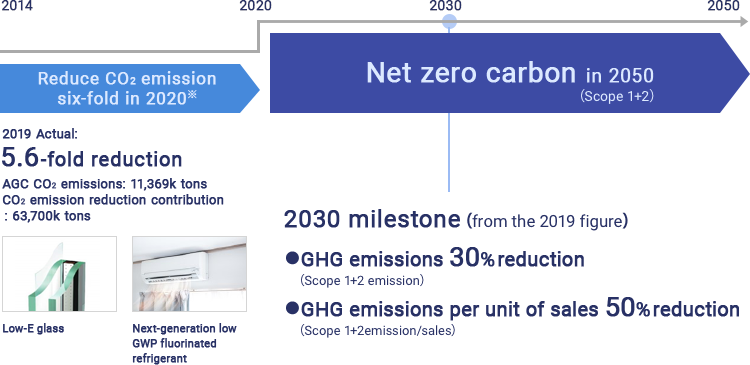 ※AGC set a goal of reducing its annual CO2 emissions by six fold in 2020 through energy-saving and energy-creating products
*Scope1:Direct emissions from company fuel combustion, etc.
*Scope2:Emissions mainly from generating purchased electricity
Key Strategies 3
3. Gaining Competitiveness by Accelerating Digital Transformation (DX)
Until now, AGC has used digitization to transform business processes in areas such as development and manufacturing, sales and marketing, and logistics. We are also focusing on the cultivation of digital talent who can wield two swords, that is those who possess both highly specialized business knowledge and advanced data analysis skills to support our transformation. By end-2020, through our own development programs we had trained 1,600 data scientists and 40 data experts capable of solving their division's problems using data science. By 2025, we plan to train 5,000 data scientists and 100 data experts.
Going forward, the AGC Group will transform its business model by further advancing and combing the initiatives which it has cultivated up to this point. In this way, we will build a competitive advantage and provide new added value to our customers and society.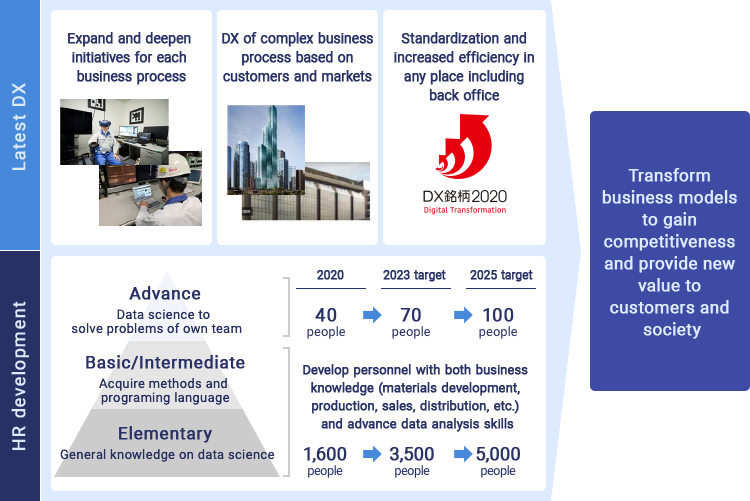 The AGC Group will add value to all stakeholders, including society, customers, business partners, employees, investors, and future generations, by achieving its management and financial targets and promoting sustainable management through the implementation of the strategies set forth in the AGC plus-2023 medium-term management plan.