For International Students
AGC will actively recruit people from diverse backgrounds regardless of nationality.
The hiring process can be conducted in either Japanese or English.
If you'd like to apply for the hiring process in Japanese, please refer to the
recruitment page for all nationalities
.
If you'd like to apply for the hiring process in English, please check the following information and register at AGC Global My Page.
Our Hiring Process
The following steps are subject to change depending on the positions applied for and on the timing and circumstances of hiring.
STEP 1
Pre-entry Registration
Pre-entry registration can be made on our website only. To register, click the Pre-entry button and enter the required information. Upon completion of pre-entry registration, you will receive your My Page user ID and password.
Note: Click the link below to make pre-entry registration.
Pre-entry registration
STEP 2
Each applicant is asked to enter resume information, submit an application form, and take an aptitude test.
Those who have passed the paper screening and aptitude test will be informed of the next step.
STEP 3
Interviews
Candidates are invited for multiple interviews and other assessments.
Our Recruiting Positions
Please check current opening positions from the following link.
Job openings
Schedule
Please check AGC Global My Page for detailed schedule information.
Interviews
Shandy Wu Hsuan
Entering year: 2020
Garry Sinawang
Entering year: 2021
Rungtiwa Kosol
Entering year: 2021
Darshan Manjunath
Entering year: 2021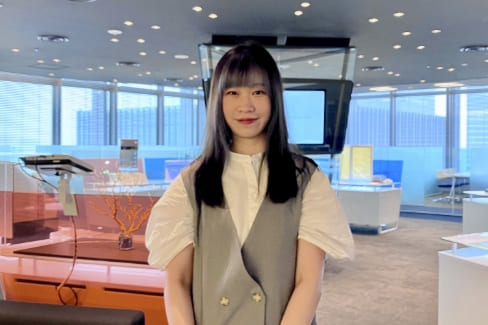 Shandy Wu Hsuan
Department:
Information Systems Division, Global IT Strategy Office
Working place:
Headquarters (Tokyo)
The reason I decided to enter AGC
I was firstly attracted by the job description, "working with a diverse team and opportunities to get exposure to a wide range of business functions related to Information Systems Division (ISD)." The statement perfectly describes how I imagine my career to begin, staying in an environment that allows me to advance my skill set. While doing company research, I was convinced that the vision and shared core values emphasized by AGC are consistent with its expansion and growth. These are the identities that I want to fulfill in my life.
Current work and the attractive points of my work
I'm now involved in a system implementation project, an operational rollout to Multi Material business. It is established from a project about the standardization of business processes which I joined in 2020. My role is to mainly take care of tasks around supply chain management-related business operations. Currently, the solutions have been introduced to other businesses.
From skill development like business process visualization, knowledge gaining on systems, to effective interactions with stakeholders, this is how I gradually find my position and realize to exert myself to contribute to success with AGC spirit and values in mind.
My goal and dream
In short, I'd like to do everything with more knowledge, experience, and passion.
Continuing to build expertise in IT systems utilizing all available resources; sharpening soft skills through teamwork and communications with talents from the globe; developing business minds from project experiences.
On top of that, "Never take the easy way out, but confront difficulties," the belief that has been practiced for over a century, will be there throughout my career path. I believe every step I take will bring this into manifestation.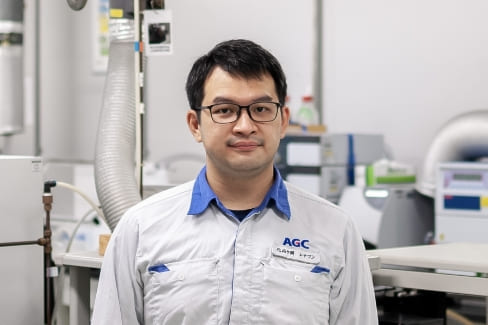 Garry Sinawang
Department:
Chemicals Company, Fundamental Technology Division, Polymer Product Development
Working place:
Kashima Plant
Major:
Macromolecular Science
The reason I decided to enter AGC
When I was in university, I always wanted to work in chemical company in Japan. In the middle of job hunting, my friend introduced AGC to me. I directly remember the tagline "素材の会社" means "company that produces materials." During the recruitment processes, I did all the research about AGC and it amazed me because many of well-known structures in the world use AGC products for their construction. It made me sure that this is the company that I imagined working for in Japan.
Current work and the attractive points of my work
Currently I work as a member of research and development division having so much interesting points for me. When in university, I did all the research in small scale and just for research paper publication. However, when I entered AGC research and development division, my way of thinking of research was changed. Doing the research not just for research paper publication or patent but we developed something that is challenged by the consumer. That is why AGC has motto "Your Dreams, Our Challenge." Additionally, no more
me
or
I
in research but it is about
us
as team and family in AGC.
My goal and dream
Working in big company like AGC means opening all the possible opportunities. Growing up together with the company is the ultimate goal but as a person to synergize with all the team members is also important for solving all the challenge given by consumers. As a member of research and development division, my ultimate goal is to provide customers with satisfying products. Even though I am still new in AGC but the supportive environment and team members made me optimistic that in near future I can fulfill those goals.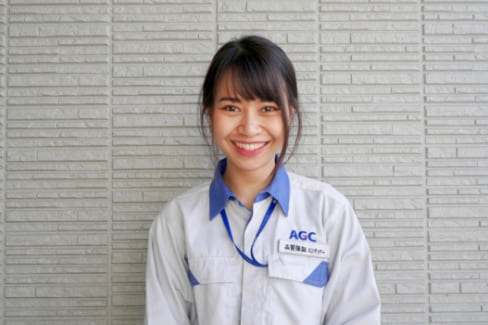 Rungtiwa Kosol
Department:
Chemicals Company, EHSQ Division, Essential Chemicals Quality Group
Working place:
Chiba Plant
Major:
Nano and Functional Material Sciences
The reason I decided to enter AGC
Because I've studied in field of chemistry, one thing that I've been concerned is about chemical waste including recycle system. I always keep those points in my mind that I want to be eco-friendly environmental chemist. AGC has exhibited those strong points and is very attractive to me. Moreover, AGC is ambitious to diversity as one team. To work and respect every worker with open-mindedness. That's so brilliant! How could I deny entering AGC?
Current work and the attractive points of my work
The Quality Assurance (QA) or EHSQ department responds to from upstream to downstream products and materials including wastewater treatment. So, every detail of material was inspected by QA department prior to the next stages. The most attractive point for me is a challenge of works! Which means that my work never gets boring! because the duties always challenge my abilities, and I could learn new things as usual! That's a great point to push me nearly into my future goal. Especially, my colleagues from my boss to co-workers. All of them always give me advice and support me. So, I'm happy in this working place!
My goal and dream
I want to be a professional specialist in chemical field. Even my theme background education was different from B.Sc. to Ph.D. which led me to face various terrible and hard time in some time, but I could learn all the times. That's fruitful of my life! To work in this position, I could learn from many things and gain more experiences. I believe that the environmental surroundings push me to be professional specialist area in the future.
Darshan Manjunath
Department:
Production Technology Division, Core Business Management Group
Working place:
Sagami Plant
Major:
Mechanical Engineering
The reason I decided to enter AGC
AGC is one of the top manufacturers of glass in the world. And AGC's engineers are known to be experts when it comes to their craft. I was very much interested in AGC ever since I participated in their briefing session.
And since AGC has monopoly in glass manufacturing in Japan and controls majority of shares in glass manufacturing around the world, I thought it would match my dream of becoming GLOBAL ENGINEER.
Current work and the attractive points of my work
My current division is Sagami Plant's Mobility team. We design, install and provide maintenance assistance to production equipment both domestically and for overseas plants.
As a first-year employee, my job is to understand the workflow of my division and be able to improve my technical understanding of various equipment.
The most attractive part of my job is that I get to work with some of the best engineers in the world and seeing the equipment which I have designed being installed is one of the best feelings out there.
My goal and dream
My dream as an engineer is to be able to contribute to AGC on a global level and repay the trust and faith that AGC and my colleagues have shown me thus far. My dream as a fellow human being is to help my juniors and create a very good and sustainable global environment within AGC in the future.
Job Categories
Recruitment - Japan
(Open to All Nationalities)
Job description
Qualification
Those who have graduated or expect to graduate from a four-year university or graduate school (master's/doctoral program first semester) between June 2023 and March 2024.
*The time for joining the company will be discussed individually.
Job categories
Engineering Fields
Research and Development (Laboratories)
Research and Development (Business Division)
Production Engineer
Plant Design and Development/Plant Engineer
Information Systems, Intellectual Property, EHSQ, etc.
Administrative Fields
Sales & Marketing
Purchasing & Buying
Human Resources
Finance & Accounting
Legal, etc.
Working conditions
Monthly salary
Standard salary (as of July 2022)
Bachelor's degree:
260,942 JPY
Master's degree:
286,524 JPY
Doctor's degree:
337,689 JPY
Working location
Research Institute
Yokohama
Factory
Kashima, Chiba, Yokohama, Sagami, Aichi, Amagasaki, Takasago, Koriyama, Yonezawa, Shizuoka, etc.
Working hours
Standard working hours: 7 hours 45 minutes, flextime system (no core time)
Holidays
Complete five-day workweek system, holidays, paid leave, bereavement leave, etc.
7 consecutive holidays for the year-end and New Year holidays, 9 consecutive holidays for Golden Week (as of 2023), consecutive holidays recommended in summer, 121 days of annual holidays in 2023
Benefit package
Benefit Systems
Asset accumulation savings (housing and pension), education loans, stock ownership, health insurance, employee's pension insurance, corporate pension fund, cafeteria plan (refreshment allowance up to 120,000 yen/year), etc.


Facilities
Dormitory for singles, company housing for the married, membership welfare services (lodging facilities, resort facilities, sports facilities).


Others
Accommodation facilities, resort facilities, sports facilities, etc. can be used through membership-based welfare services.
募集要項や選考フローなど、エントリーに関する情報は下記からご覧ください