AGC to Expand GMP - Compliant Synthetic Pharmaceutical Intermediate and Active Ingredient Production Capacity Tenfold
- Broadened CDMO business will cover commercial as well as in the development stage of new drugs -
AGC, a world-leading manufacturer of glass, chemicals and high-tech materials, today announced a major expansion of facilities at its Chiba Plant that will result in an approximately tenfold increase in the company's GMP1-compliant synthetic pharmaceutical intermediate and active ingredient2 production capacity. The new capacity is set to come online in October 2019.
AGC began developing and manufacturing pharmaceutical and agrochemical intermediates and active ingredients on a contract basis in the 1980s. Leveraging its edge in fluorine technologies and extensive experience in in-house drug discovery and other fields, AGC now offers a range of CDMO3 services tailored to customer needs.
While AGC has to date mainly provided CDMO services for in the development stage of new drugs, this expansion will give AGC the end-to-end capability to produce commercial drugs too, allowing it to deliver more advanced one-stop solutions. The new facilities will also be capable of producing hard-to-handle active ingredients, such as the highly potent active pharmaceutical ingredients typically used in cancer therapy. AGC will therefore be able to meet a wider range of customer demands.
The AGC Group's "
AGC plus
" management policy identifies the life sciences as one of its strategic businesses. Moving forward, the group will continue to invest in the capacity needed to meet ongoing growth in demand for pharmaceutical intermediate and active ingredient CDMO services.
Notes
1 GMP: Good manufacturing practice (standards governing the production and quality control of pharmaceutical products and quasi-drugs).
2 Synthetic pharmaceutical intermediates and active ingredients: Intermediates and active ingredients for pharmaceutical products that are produced by chemical synthesis.
3 CDMO: Contract development and manufacturing organization (a company that develops production methods and manufactures products for another company on a contract basis).
Reference Information
■About the AGC Group
AGC Inc.(Headquarters: Tokyo, President & CEO: Takuya Shimamura) is the parent company of the AGC Group, a world-leading glass solution provider and supplier of flat, automotive and display glass, chemicals, ceramics and other high-tech materials and components. Based on more than a century of technical innovation, the AGC Group has developed a wide range of cutting-edge products. The AGC Group employs some 50,000 people worldwide and generates annual sales of approximately 1.5 trillion Japanese yen through business in about 30 countries. For more information, please visit
www.agc.com/en
■Synthetic drug development process
AGC develops and manufactures synthetic drugs both in-house and as a CDMO. The expansion of capacity announced today will allow the company to meet demand for CDMO services ranging from the development stage of new drugs to commercial ones.
■AGC Group's pharmaceutical and agrochemical intermediate and active ingredient manufacturing operations
The AGC Group manufactures pharmaceutical and agrochemical intermediates and active ingredients at the following locations.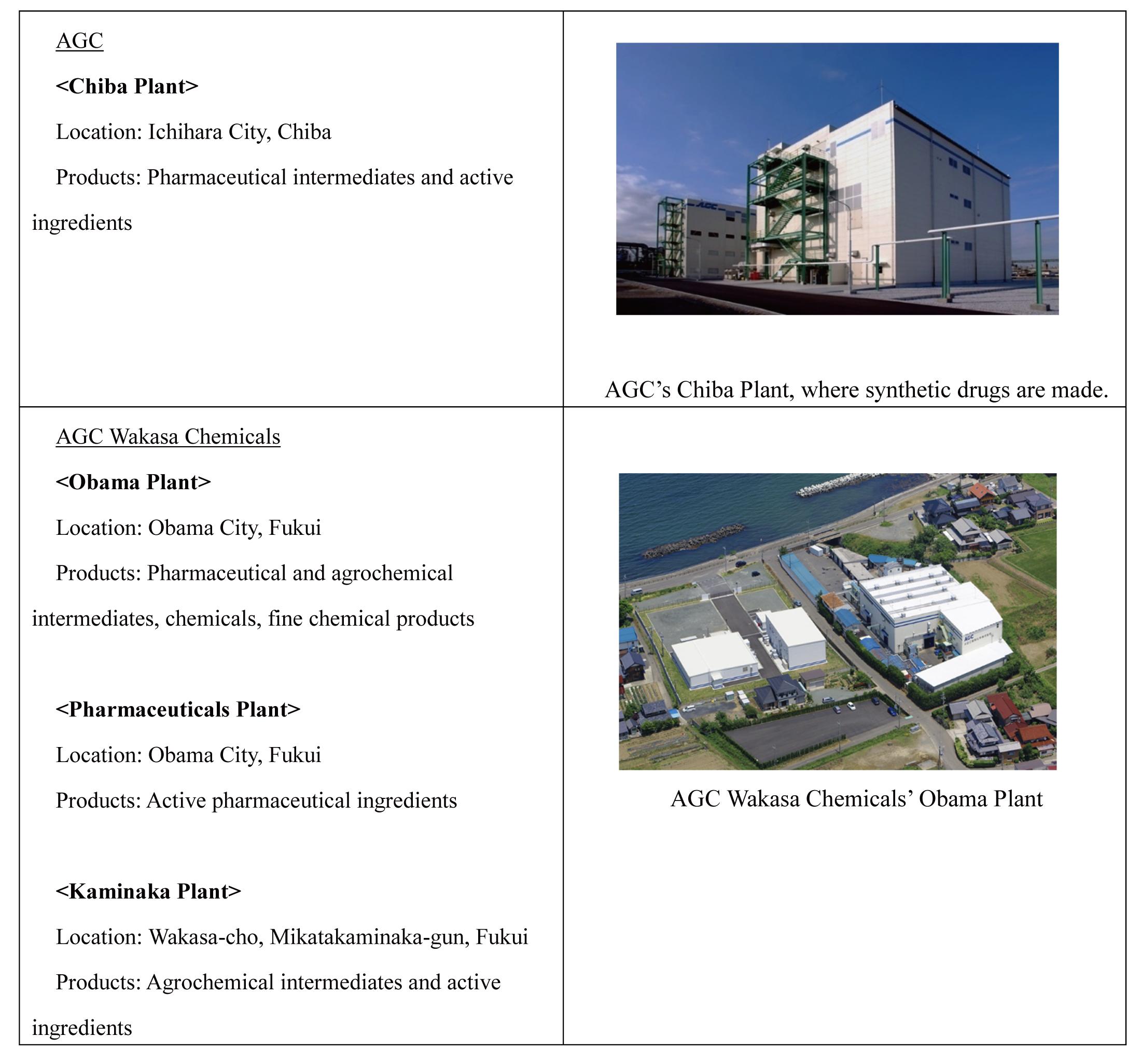 Kazumi Tamaki, General Manager, Corporate Communications & Investor Relations Division
AGC Inc.
Contact: Yuki Kitano
E-mail: info-pr@agc.com