CTO Message
A Wide range of internal and external talent collaborate to create a center for global innovation
Hideyuki Kurata, Senior Executive Officer, Chief Technology Officer and General Manager, Technology General Division
Turning points create new business opportunities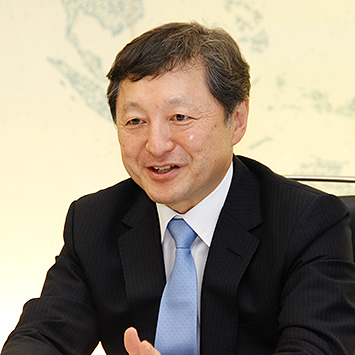 Looking back at the industrial history of Japan, we see industry has grown and advanced by confronting and overcoming market and technological turning points.
The AGC Group has truly created such new businesses. Our founder, Toshiya Iwasaki, took the company on its first step as a glass manufacturer by successfully producing flat glass in Japan, a product that had been tried and failed by many entrepreneurs. When imports of soda ash, the raw material for flat glass, and heat-resistant bricks, which are essential for glass melting, were cut off due to the World War I, he took on the challenge of producing them domestically, and built the foundation for our Chemicals and Ceramics businesses. Even after the war, through the development and manufacture of CRT and automotive glass, we overcame major market and technological changes together with leading customers in their industries and supported Japan's high economic growth.
More recently, we took the opportunity presented by terrestrial digital broadcasting to make a historic shift from CRTs to FPDs in a short period of time together with our customers by making use of the technology we had cultivated thus far. This innovation in glass has been passed down to products in the smartphone and semiconductor fields. In the Chemicals business, we expanded the chemical chain and added value from soda ash production, which we started as insourced production of soda ash, a raw material for glass, to chlorine-based derivatives and fluorine-based derivatives. This led to the Life Science field, one of our strategic businesses. (Link ⇒ Reference: Market and technological change and AGC's innovation)
Faced with such major changes and difficulties of the times, AGC's diverse talent has taken on challenges in a self-directed manner. Such talent is the force behind the creation of new value and contributions to society. That is truly the AGC Group's tradition, strength, and DNA.
Ongoing growth through "ambidextrous management"
The driving force behind achieving these goals and taking on the challenges of new growth is the AGC Group's ambidextrous management. This is a management method to explore the pillars of strategic businesses (new business) while deepening core businesses (existing business). In our core business, we need to generate more cash by pursuing production efficiency, improving quality, and increasing added value. We also need to monitor what the market and customers are aiming for next, predict the future, and provide materials and solutions in a timely manner. In strategic businesses, it is necessary to create new markets and new businesses with innovative products that meet the needs of the world.
Continuing the cycle of creating new businesses while growing the strategic business into a core business
the AGC Group will not grow without it. In addition, technological capabilities are the key to both strengthening core businesses and creating strategic businesses.
An ambidextrous approach is also important in development
An ambidextrous approach is also important in technology development. The AGC Group is a unified team with 115 years of accumulated technologies and a wide variety of talents and technologies. Our organizational capabilities and technologies can be described as the accumulation of technologies and knowledge over many years and the capabilities of individual technical staff.
Right-handed development refers to the continuous evolution of organizational capabilities and technologies through innovations in manufacturing and fundamental technologies, and the creation of next-generation products together with customers. Meanwhile, left-handed development is redefining existing technologies and expanding their application to products for new markets that we had not approached before, thereby opening up new markets.
By combining and reiterating these approaches, we will overcome the changing times and seize new growth opportunities.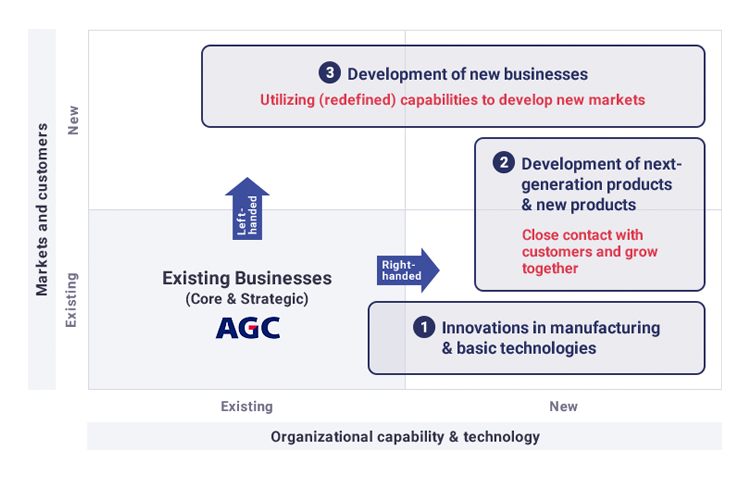 This is also true our recent M&A centering on biotechnology. AGC had developed fluorochemical technologies for intermediates and active ingredients for low-molecular-weight pharmaceuticals and agrochemicals, in these businesses AGC had also established quality control systems and facilities at the GMP (Good Manufacturing Practice) level. We also have developed and possess biotechnology to produce useful proteins using yeast and e-coli. Utilizing these organizational capabilities and technologies, we have developed a left-handed development approach to contract manufacturing business (CDMO) of biopharmaceuticals using microorganisms from pharmaceutical companies. With this as a starting point, the development and introduction of animal cell technology by utilizing M&A and advancing into the field of antibody drugs is the right-handed development approach. It is not simply adding on businesses by acquisitions. Going forward, we will continue to pursue challenges in gene therapy technologies (right-handed) and new markets (left-handed).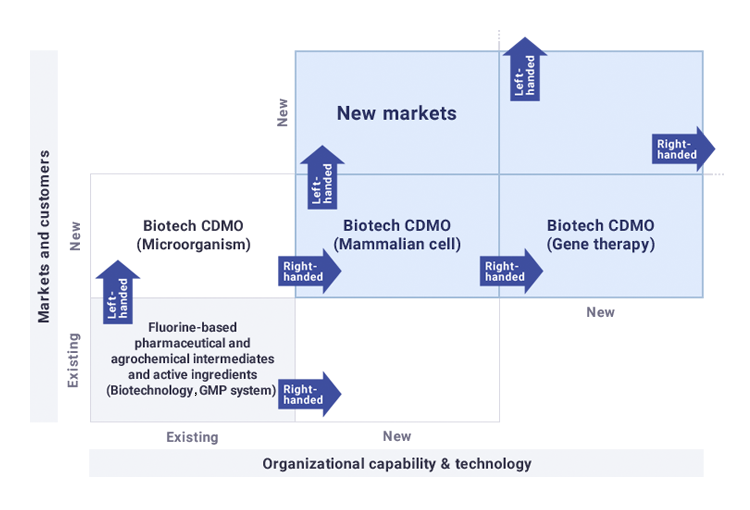 Future direction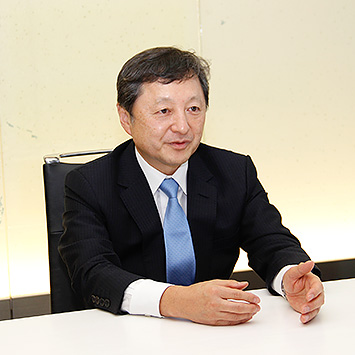 One of the keywords is "sustainability" when considering next-generation new businesses to come after the current strategic businesses (Mobility, Electronics, and Life Science). As a materials company, AGC must contribute to solving social issues through materials innovation.
In our new mid-term management plan, we will explore new business areas in energy-related fields.
We aim to achieve net zero carbon in our business activities and contribute to the realization of net zero carbon in society as a whole. In the glass melting process, we will accelerate the introduction of energy-efficient oxygen combustion and electric boosters for melting to reduce fuel consumption. In addition, products such as insulating glass will contribute to the reduction of CO2 emissions at the usage stage. Furthermore, we will promote the development of products that contribute to the spread of next-generation energy, such as hydrogen and renewable energy, using fluorine-based electrolyte polymers for fuel cells.
One of the pillars of the mid-term management plan is to strengthen our competitiveness by accelerating DX (Digital Transformation). We will use the latest digital technologies to advance and deepen initiatives for each business process and promote the digitalization of complex business processes. We will also develop human resources with advanced data analysis skills and promote standardization and efficiency on all fronts, including back-office operations.
The world is changing at an unprecedented speed. The shift from fossil fuels to renewable energy, the transformation of the automobile industry as symbolized by CASE (Connected, Autonomous, Shared, Electric), the increased speed of communications through 5G, and the acceleration of next-generation semiconductors are all taking place at the same time an unprecedented magnitude. I would like to see this as a unique opportunity for the AGC Group to demonstrate its strengths.
YTC at the center of global innovation
The AGC Yokohama Technical Center (YTC) fully open in June 2021. The Research Center (Hazawa-cho, Kanagawa-ku, Yokohama), which had been in charge of product development, will relocate to the former Keihin Plant (Tsurumi-ku, Yokohama), which has been in charge of manufacturing technology development. This will integrate the product development and manufacturing technology development functions that were previously in separate locations. As a result, a platform will be established to seamlessly link materials development, process development, and facility technology development. There are two aims to this move.
One is to significantly increase the speed of R&D by developing materials while always being aware of the shape of the final product. The second is to develop new business areas and create new value through collaboration with internal divisions, external customers, partner companies, academia, and so forth.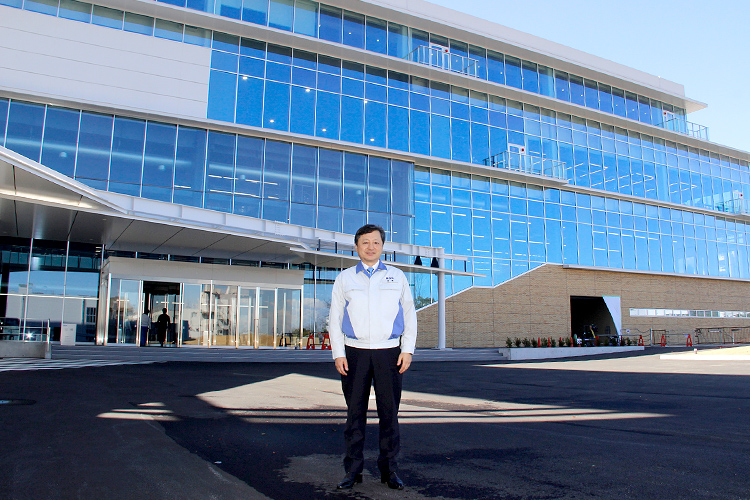 People are the source of the AGC Group's technological capabilities. I am confident that the AGC Group's technological capabilities will be further enhanced and improved by bringing together people of various nationalities, careers, and genders to share ideas and cooperate at YTC.
What I especially hope for is that not only employees but also people from outside AGC gather and interact at YTC and generate the chemical reactions that create new ideas. I have high expectations that this cross-sectional and heterogeneous approach will lead to ground-breaking innovation. Various specialists will work together to quickly turn ideas into businesses. There are already several projects underway at YTC. Some of these projects involve people from outside AGC.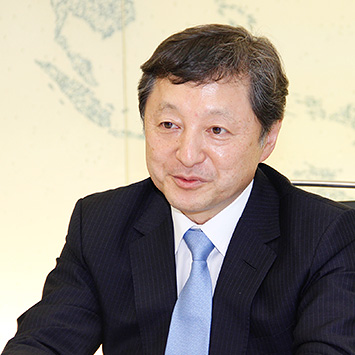 In this way, people from various departments and fields will collaborate to create new value. That is the dynamic image I have for YTC.
Of course, not all projects succeed. But that's not a failure, it means we have achieved an increase in technology discovery and the growth of the people involved. Also, even if things don't work out right away,
I would like to encourage any researcher who has a strong belief in a theme that will connect to the future and change the world. I would like YTC to be a place that is broad-minded where people with such ambition and passion can work with enthusiasm. As CTO, my dream is for YTC to become a center of global innovation, so that AGC's human resources working there will attract customers and make them believe that they will find a solution if they go to YTC.
Reference: Market and technological change and AGC's innovation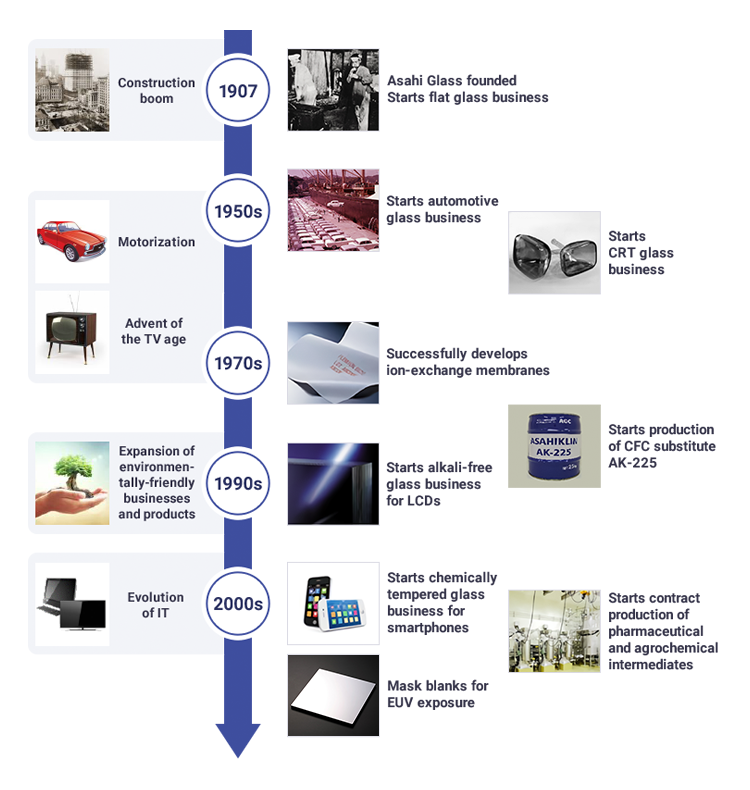 Example from the Glass business:
The AGC Group applied its glass composition, glass melting, and float forming technologies to develop and manufacture new alkali-free glass substrate for Liquid crystal displays (LCDs) when flat panel displays (FPDs) such as LCD TVs replaced CRT TVs following the introduction of terrestrial digital broadcasting. We thus worked with customers to achieve a historic shift from CRT to FPD in a short period of time. The flow of technological innovation continues to evolve in the form of chemical tempered glass for smartphones and automotive interior cover glass.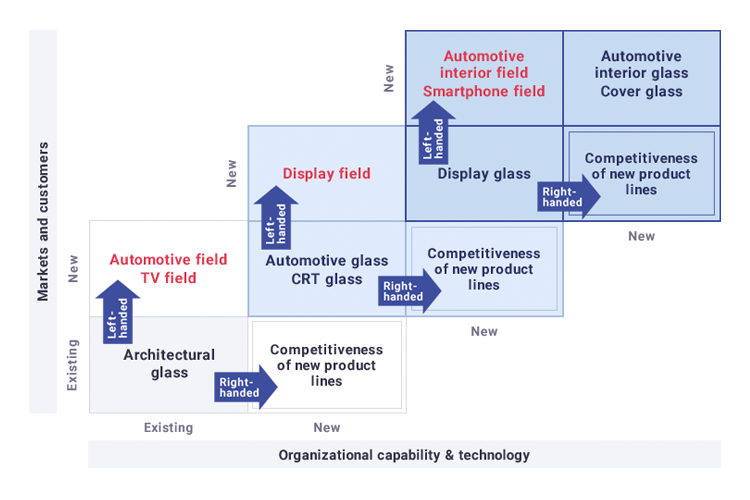 Example of the Chemicals business:
We launched Japan's first soda ash business under the ammonia process, in order to internally manufacture soda ash, a raw material for glass. In addition, the caustic soda business started with the ammonia process, but with the rise and fall of the ammonium chloride fertilizer market, the expansion of the PVC market and environmental problems, we have made a major shift from the ammonia process to the mercury process, to the diaphragm process and then to the high-grade ion-exchange membrane electrolysis process. Today, the manufacturing method of caustic soda in Japan has been converted to the 100% ion- exchange membrane electrolysis process, and the technology developed by Japanese companies such as AGC is widely used in the world. Through these technological innovations, we had added value and expanded the chemical chain to chlorine-based derivatives and fluorine-based derivatives. AGC is now firmly established in the fields of fluorine-based resins, and pharmaceutical and agrochemical intermediates and active ingredients. In this process, we have established a rigorous quality assurance system that is applied in Life Science, one of our strategic businesses.