Long-Term Management Strategy
Vision 2030
In February 2021, we announced a new long-term management strategy, Vision 2030. Our goals under this strategy are to contribute to the realization of a sustainable society and achieve continuous growth and evolution as an excellent company by providing unique materials and solutions. We aim to realize this through sustainability management and business portfolio transformation, leading to the continuous creation of social and economic value.
Vision 2030

Q1.

What are your financial targets under the Vision 2030 long-term management strategy?

A1.

We have set the following targets as a framework for our efforts to create economic value.
Our goals under this vision were to achieve operating profit of 300 billion yen or more (record profits) by 2030, and to maintain ROE consistently at 10% or higher.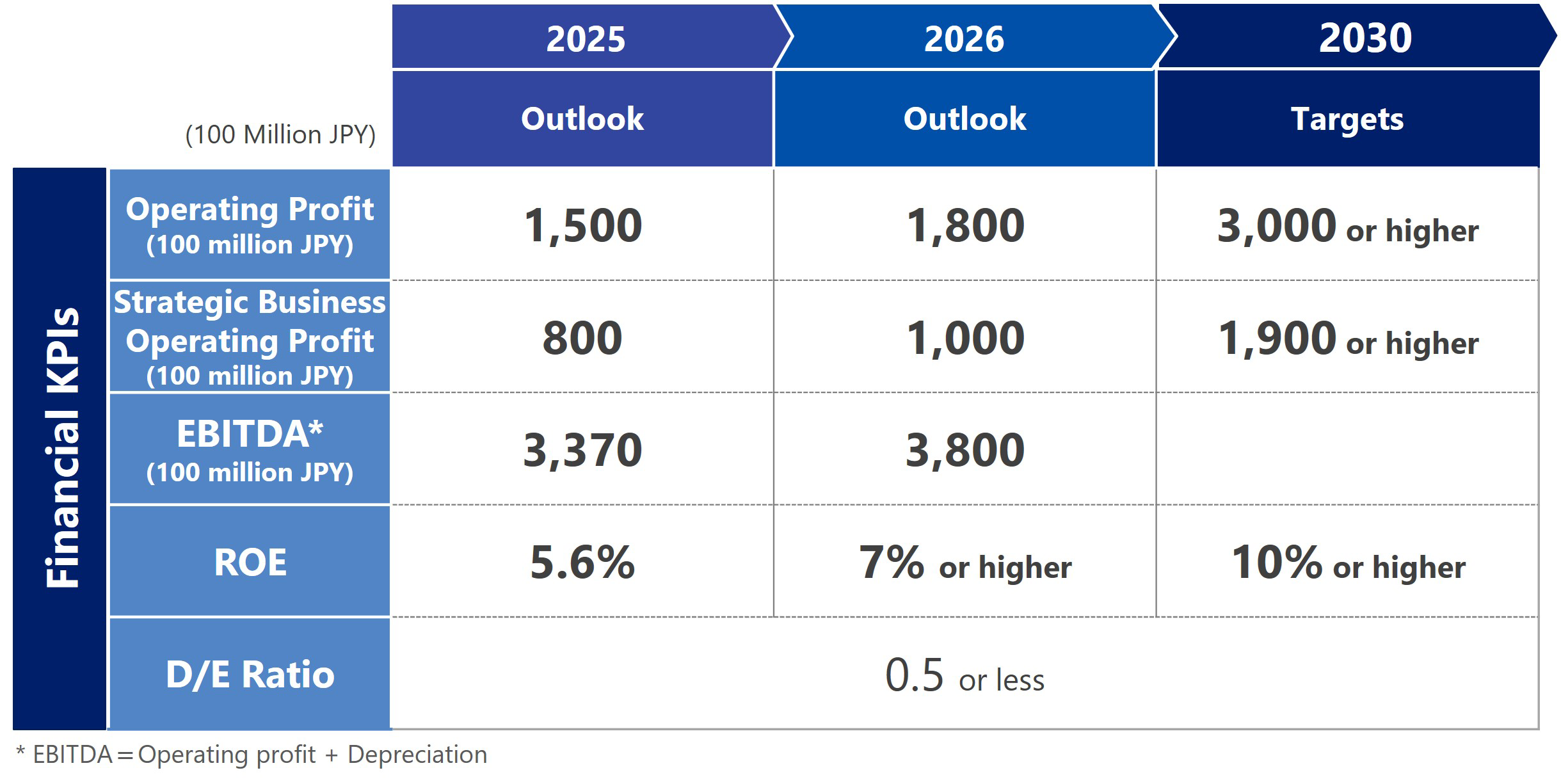 Q2.

What non-financial goals are included in Vision 2030?

A2.

We will create the five types of social value through business activities that contribute to the solution of social issues.
The Company anticipates future changes in social issues and identifies material issues that could become major opportunities or risks over the long term. We have also clarified the social and economic value that we aim to create while advancing Group management and business activities along this path.
Solutions for five social issues

Q3.

Please outline your policies on business portfolio transformation as the cornerstone of your strategy.

A3.

We will develop an "ambidextrous" approach to management based on the deepening of core businesses and the further exploration of strategic business areas.
In the strategic businesses (Electronics, Life Science, and Mobility), which are very resilient to market fluctuations and have high asset and carbon efficiency, the Group will accelerate growth through continued aggressive expansion and aim to achieve operating profit of 100 billion yen in fiscal 2024.
In the core businesses, asset efficiency and stability in the chemicals and architectural glass businesses have improved significantly compared to those before the implementation of portfolio transformation in 2016. This is the result of the successful expansion of investments in the chemicals business, which is positioned as a growth business, and the progress in such structural reforms as the transfer of architectural glass business in North America. Meanwhile, profitability and asset efficiency remain issues for the automotive glass and display businesses.
"Ambidextrous" management in the AGC Group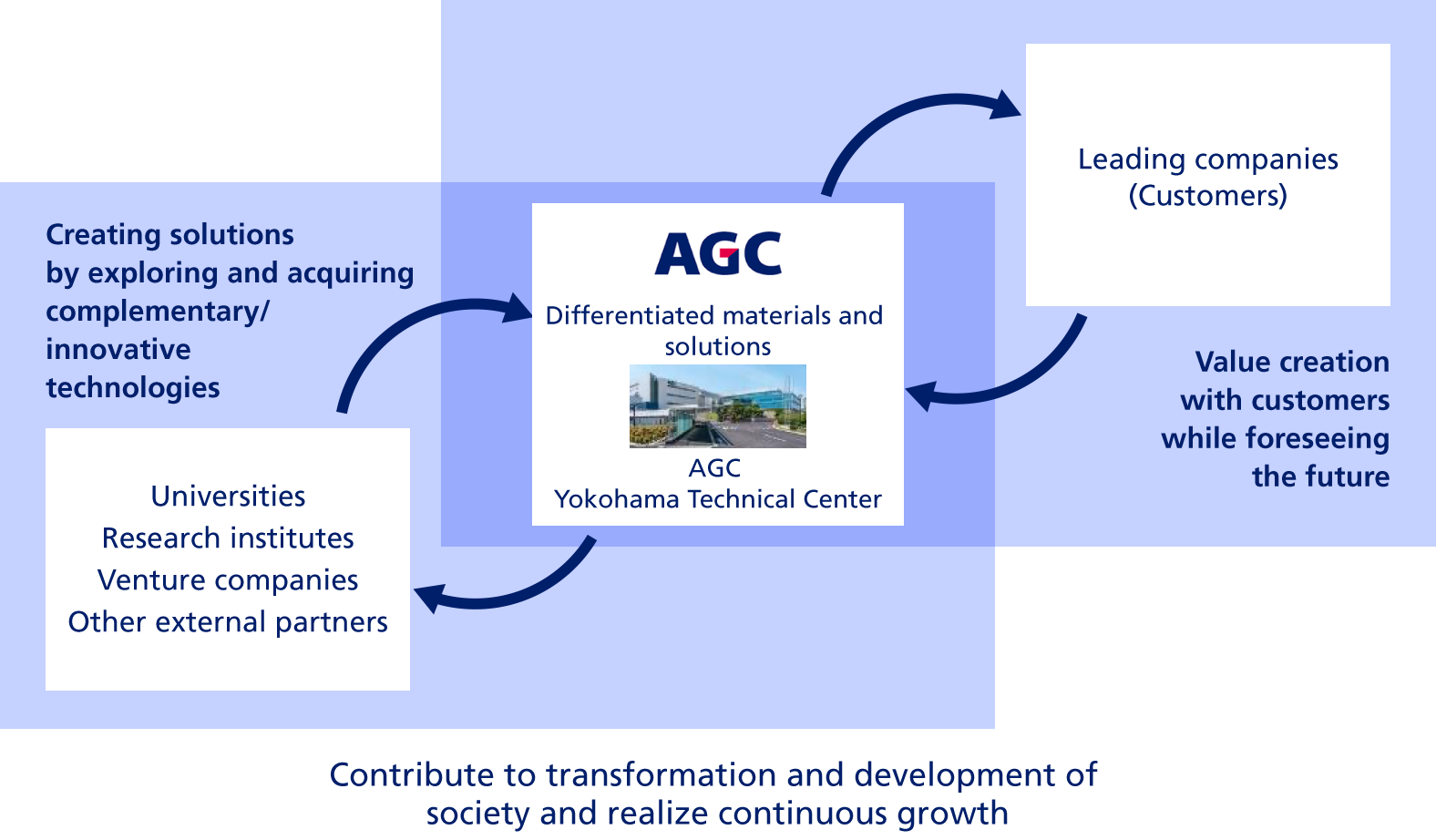 Through the initiatives described above in strategic and core businesses, the AGC Group aims to achieve Groupwide operating profit of 300 billion yen in fiscal 2030, and to increase the ratio of strategic businesses with high carbon and asset efficiency to over 50%.
Breakdown of operating profit (billion yen)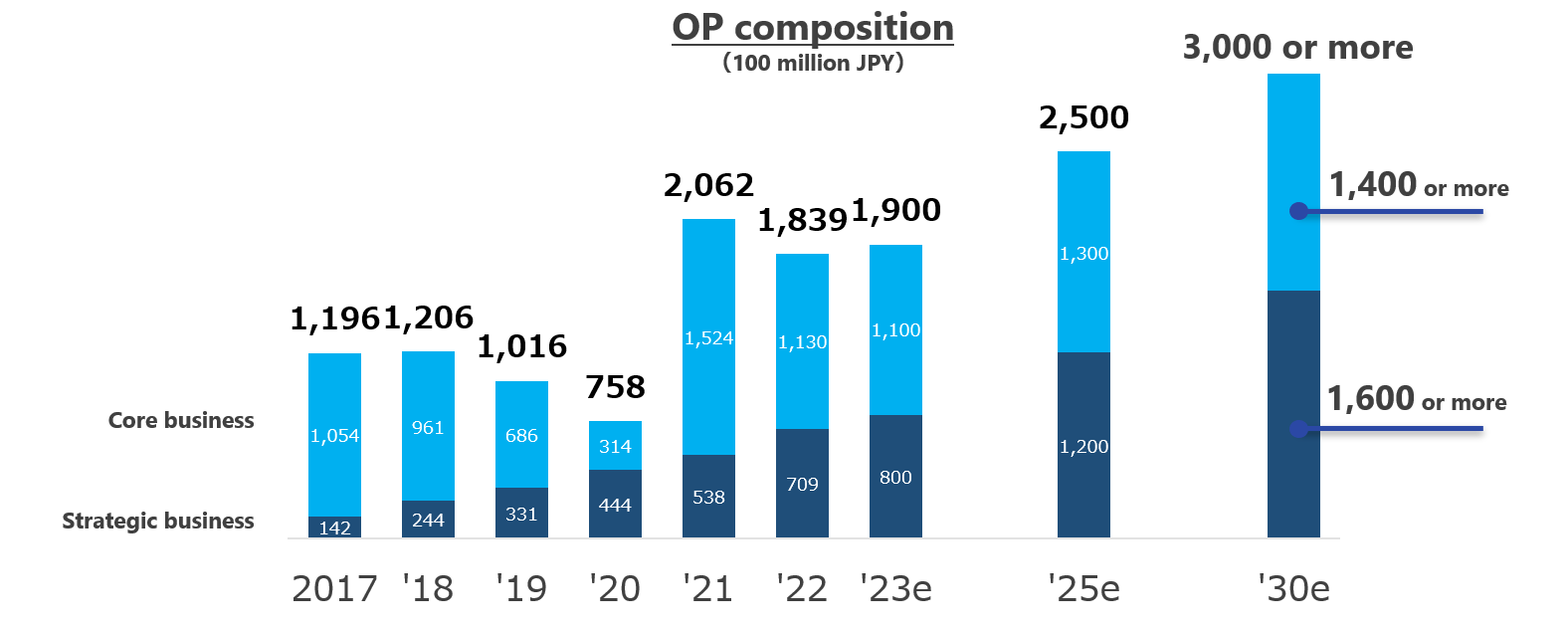 Q4.

What are your policies on addressing climate change as part of sustainability management?

A4.

We aim to achieve net-zero carbon emissions from our business operations, while also contributing to the achievement of social net-zero emissions by society.
As part of our contribution to the realization of a sustainable global environment, we have set a new goal of achieving net-zero carbon emissions in 2050. As milestones, by 2030, we have set a goal of a 30% reduction in GHG emissions in Scope 1 and Scope 2, a 50% reduction in GHG emissions per unit of sales* (both compared to 2019), and a further 30% reduction in GHG emissions in Scope 3**.

*GHG emissions per unit of sales = GHG emissions / sales ** Total of category 1, 1, 11, and 12 of Scope 3 emissions
As an industry leader, AGC is working to reduce GHG emissions from manufacturing processes by introducing the world's most energy-efficient glass manufacturing technologies. While progressively and systematically implementing existing technologies, such as oxygen combustion systems and electrical boosters, we are also developing innovative technologies that will have a major impact on the future.
We are further expanding our contributions to the prevention of global warming through our products and technologies. In both core and strategic business areas, AGC has drawn up strategic aims for technology and business development relating to the environment and energy.
Carbon emission targets (net-zero by 2050)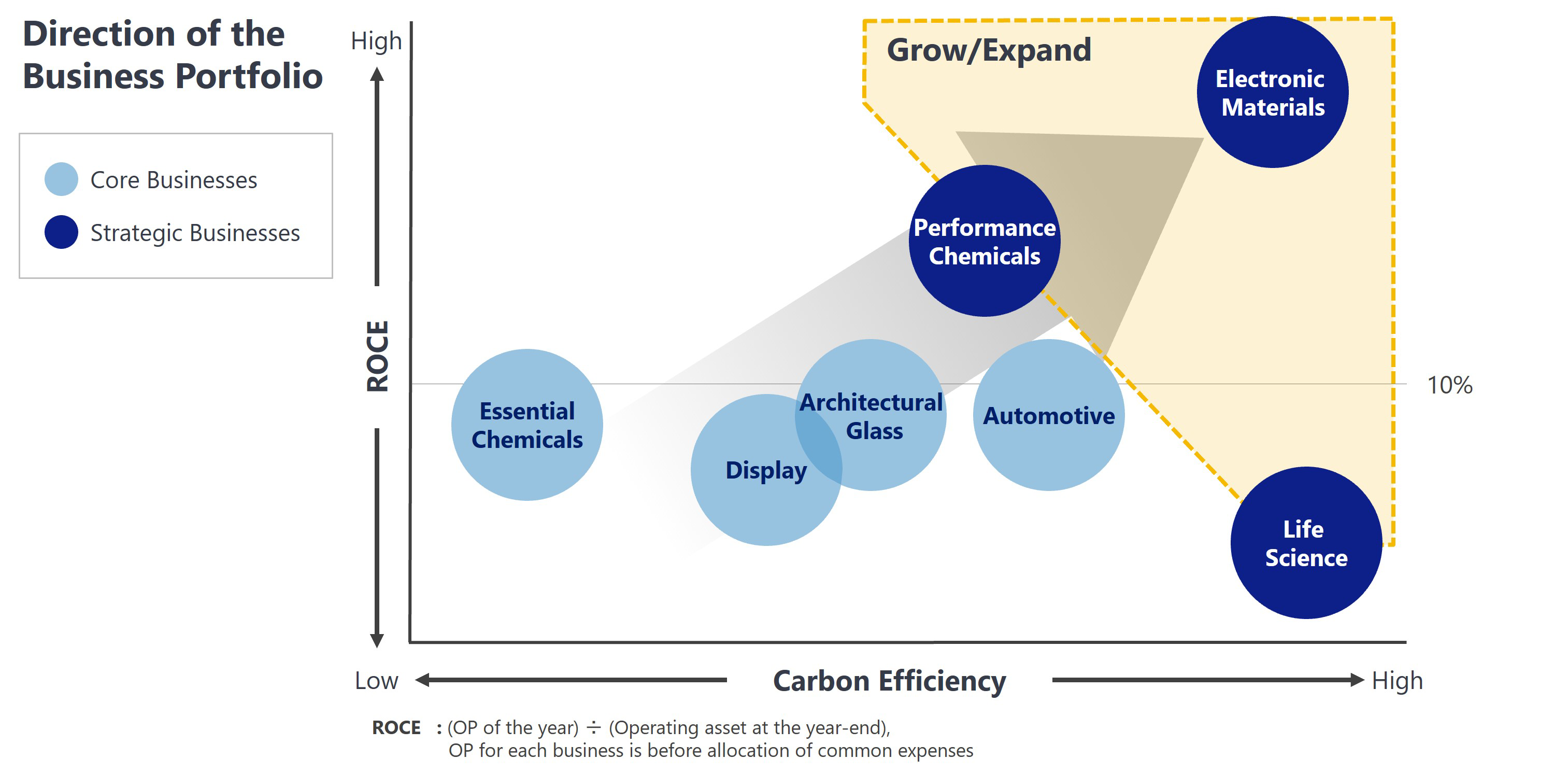 Q5.

What human resource initiatives are included in your sustainability management policies?

A5.

We will expand our initiatives. Key goals include the promotion of diversity, strengthening individuals, and the improvement of engagement.
Under a policy entitled "AGC People: the driver of our growth!", we have established the following HR programs with the aims of enabling each and every employee to reach their full potential, creating an organization that is stronger than the sum of its parts, and achieving our business strategies and organizational targets while delivering corporate and individual growth.
We will continue to promote a variety of initiatives based on the principles of pursuing diversity, strengthening individuals, and enhancing work engagement.
Diversity initiatives, human resource development

Q6.

Please outline your policies on the expansion of open innovation.

A6.

In addition to external collaboration, we also promote collaboration within the AGC group.
As social issues become more complex and the speed at which they are being addressed increases, it is becoming increasingly difficult for the AGC Group to solve these issues on its own. Therefore, it has become important for us to engage in collaborative activities, such as working on value creation with client companies that foresee the future, exploring and complementing technologies with external partners such as universities, research institutes, and venture companies. Based on these activities, we will contribute to the transformation and development of society and achieve continuous growth.
AGC's open innovation