Facility Guide
In the newly completed research building in AGC Yokohama Technical Center, in addition to the AGC-only area (SECURITY ZONE), a collaborative space "AO (AO/AGC OPEN SQUARE)" has been established as a place to accelerate collaboration with external partners such as clients, academia, and startup companies. Aiming to expand business and maximize value for visitors, we have established the following four facilities based on the concepts of "CONNECT", "CREATE", and "MATERIALIZE".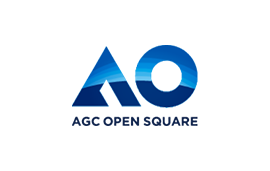 1F | AO Gallery
New possibilities for AGC open up through installations that make use of materials and technologies. By bringing in different perspectives of the collaboration partners, AGC hopes to express values that cannot be obtained from materials alone and that lead to new discoveries for visitors.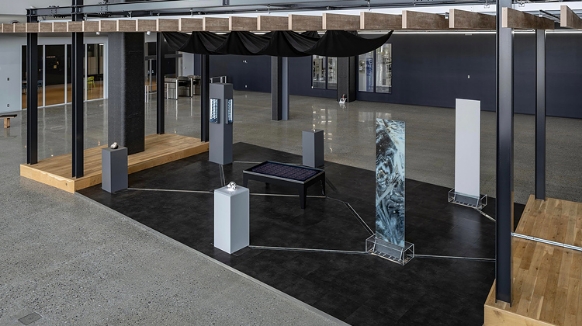 2F | AO Park
AGC's history and the latest topics are displayed in an open space modeled after a park. By providing a deeper understanding of AGC, the potential for collaboration will expand.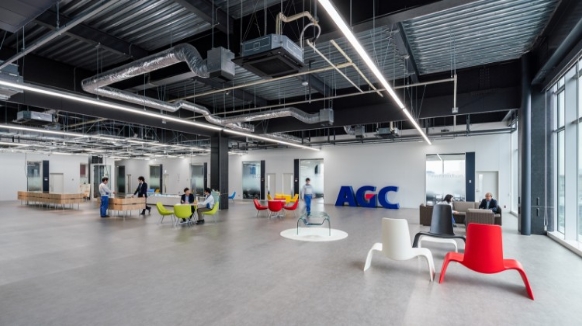 3F | AO café
The cafeteria is built on the concept of "a place for dialogue and relaxation." It is a glass-walled and expansive space with a relaxing café-like environment where discussions with customers can be held while enjoying a meal.
*We request your understanding that entry is limited to AGC employees only while COVID-19 measures are in place.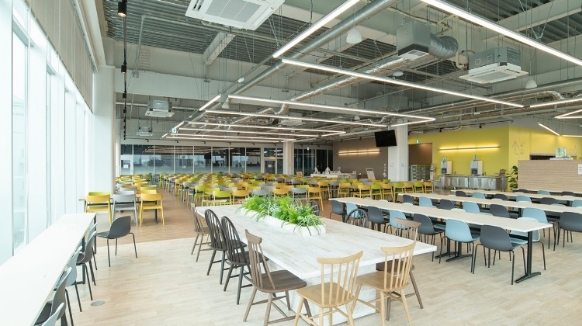 4F | AO Studio
A place to experience AGC's cutting-edge materials and technologies that will inspire you to CREATE ideas for the future.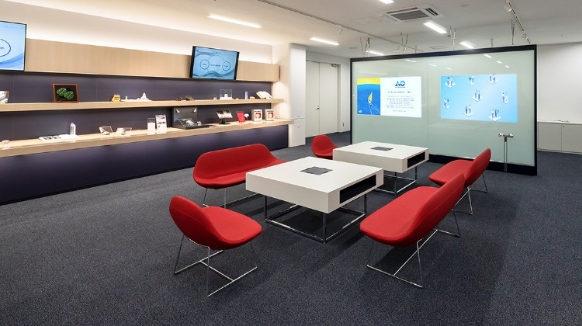 2, 3, 4F | AO Lab.
This is a place to give shape to ideas by prototyping and evaluating them on the spot. In addition to a demo in which visitors can feel the heat of melting glass, the AO Lab features the latest equipment, such as an AM lab with various 3D printers and an XR lab for digital prototyping of VR, AR, and MR. Once collaboration begins, individual project rooms are set up to accelerate collaboration.