AGC Yokohama Technical Center
Overview
The AGC Yokohama Technical Center (formerly the Keihin Plant) started operations in 1916 in Tsurumi Ward, Yokohama, which has become a pivotal area in the Keihin Coastal Industrial Zone. The Center is located at the Twin Frontier Suehiro in Yokohama's Tsurumi Ward, which has become a focus for technology development in recent years. In 2021 it merged with the Research Center in Kanagawa Ward, Yokohama to become the main hub for AGC's technology development activities. The AGC Yokohama Technical Center also manufactures architectural flat glass and cover glass for vehicle-mounted displays and plays a unique role spanning all stages from research through to production and shipment.
As part of AGC's seamless technology development organization, the AGC Yokohama Technical Center also helps to share AGC technology through open innovation with other companies and research institutions.
History
1916: The Tsurumi Plant is opened and begins to manufacture architectural flat glass.
1936: The Technical Center is relocated from Ushigome-ku, Tokyo.
1938: Production of automotive safety glass begins.
1965: The Technical Center is relocated to Kanagawa-ku, Yokohama and begins to operate as a research center.
1969: The Tsurumi and Kawasaki Plants are merged to form the Keihin Plant.
1985: The Keihan Plant commenced prototyping and manufacturing of electronic glass (LCD, PDP, HD).
2006: The AGC MONOZUKURI (Quality Manufacturing) Training Center is completed.
2020: The name is changed to the AGC Yokohama Technical Center.
2021: The former Research Center in Kanagawa-ku, Yokohama is relocated and merged with the AGC Yokohama Technical Center.
Base for technology development and open innovation
In recent years we have seen continual acceleration of the pace of change in world markets and the global environment, as well as the speed of technological innovation. By gathering all of its core development organizations, including the Innovative Technology Laboratories, the Materials Integration Laboratories, and the Production Technology Division, at the AGC Yokohama Technical Center, AGC has integrated the development of materials, processes, and facilities with development functions for the common core technologies that support these activities. This restructuring has significantly accelerated the pace of in-house development. To achieve further acceleration, AGC is also pursuing open innovation, the aim of which is to develop new technologies and access complementing technologies that AGC does not possess through collaboration with outside partners, including academic institutions and startups. Our continuing challenge is to drive social progress and innovation by using new materials and solutions that result from this work to create innovative products in collaboration with our customers.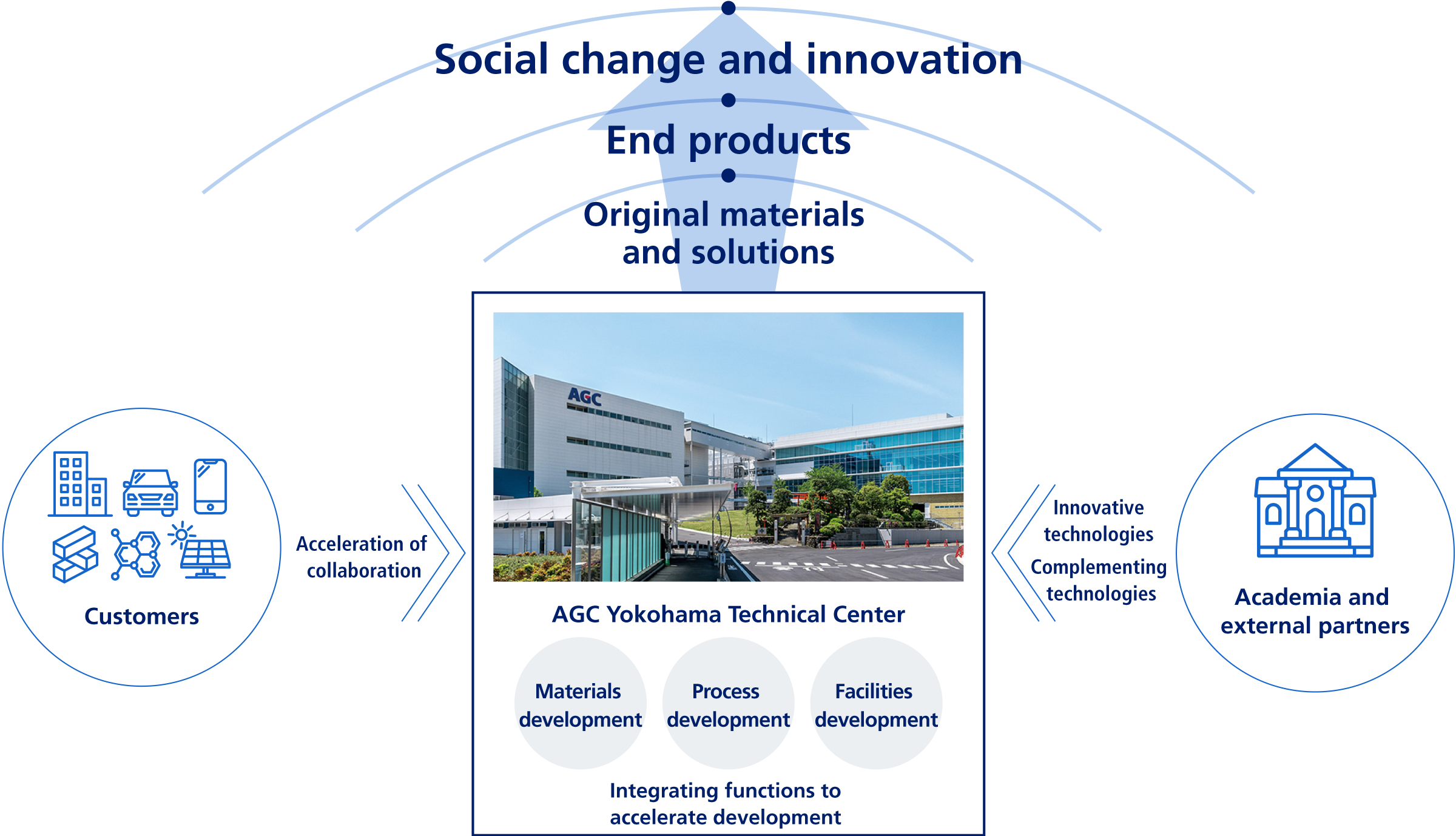 Access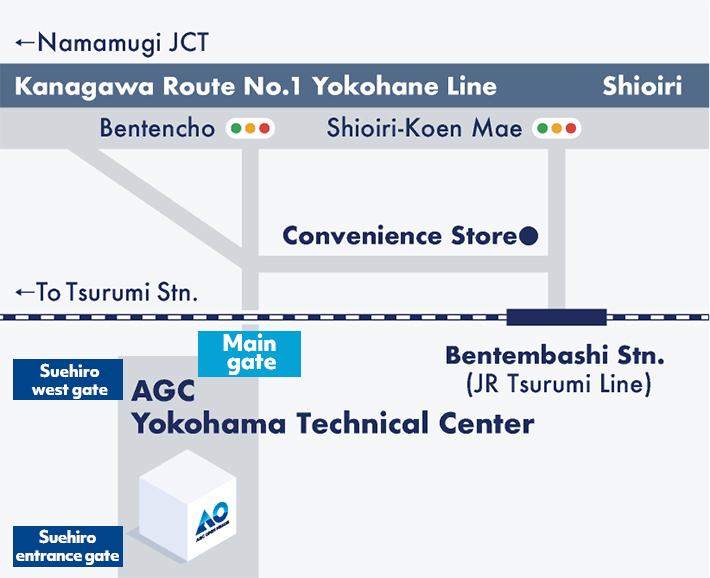 AGC Yokohama Technical Center (former Keihin Plant)
Suehiro-cho 1-1, Tsurumi-ku, Yokohama City, Kanagawa, 230-0045, Japan
Telephone: 045-503-7100
Access
3 minutes' walk from Bentembashi Station (JR Tsurumi Line)
Customers should enter from the "Main gate".
You cannot enter the "Suehiro west gate", "Suehiro entrance gate" because they are for vendors.