Medium-Term Management Plan
AGC plus-2023
AGC has formulated a new medium-term management plan, AGC plus-2023, as a framework for continuing steady progress under its long-term strategy, Vision 2030. Our financial targets and key strategies under this plan are as follows.
Financial targets and the latest financial results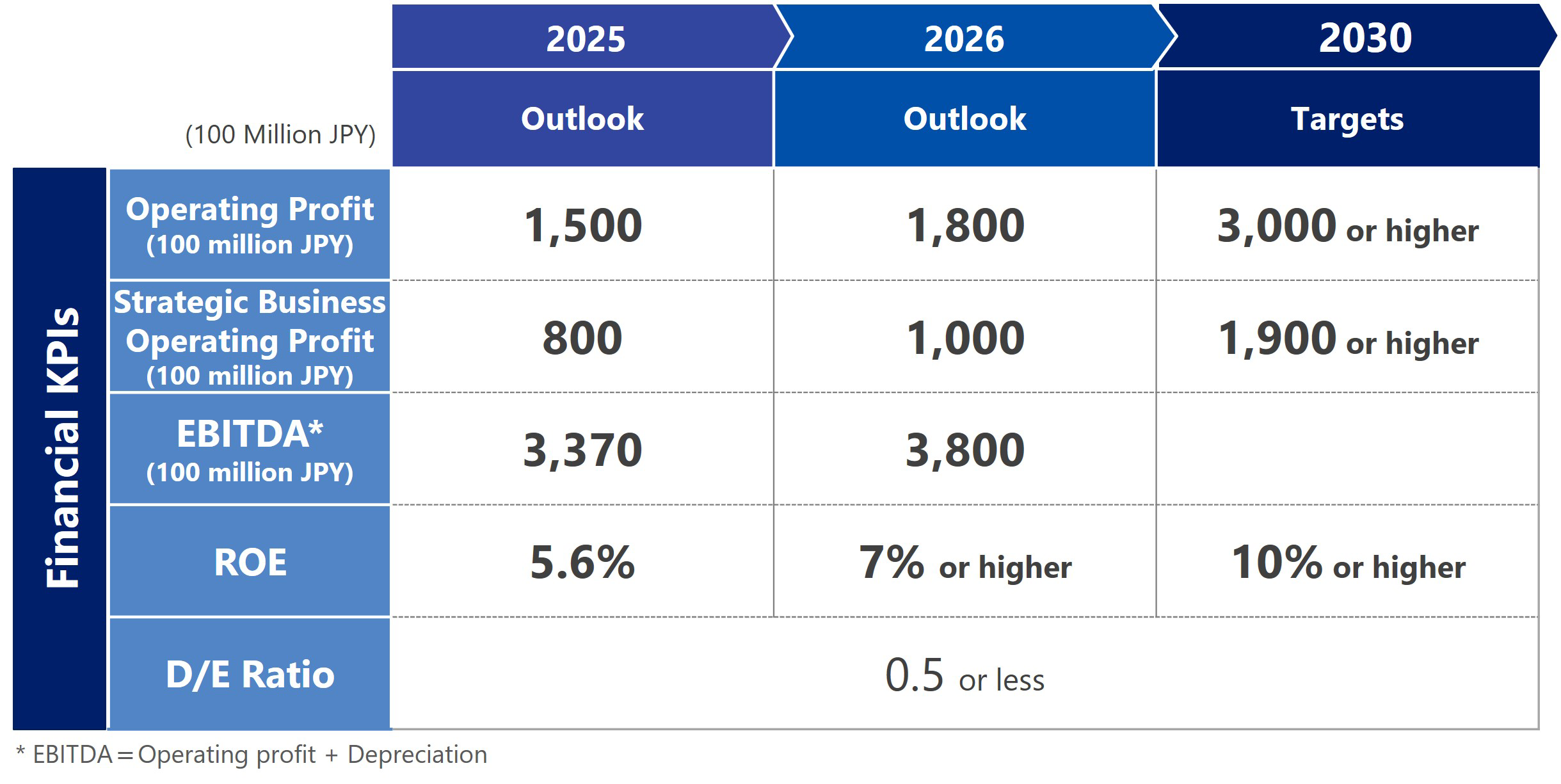 * ROE of FY2023e is calculated using the figures of Profit for the year attributable to owners of the parent as of Dec 31, 2022
Operating profit of strategic businesses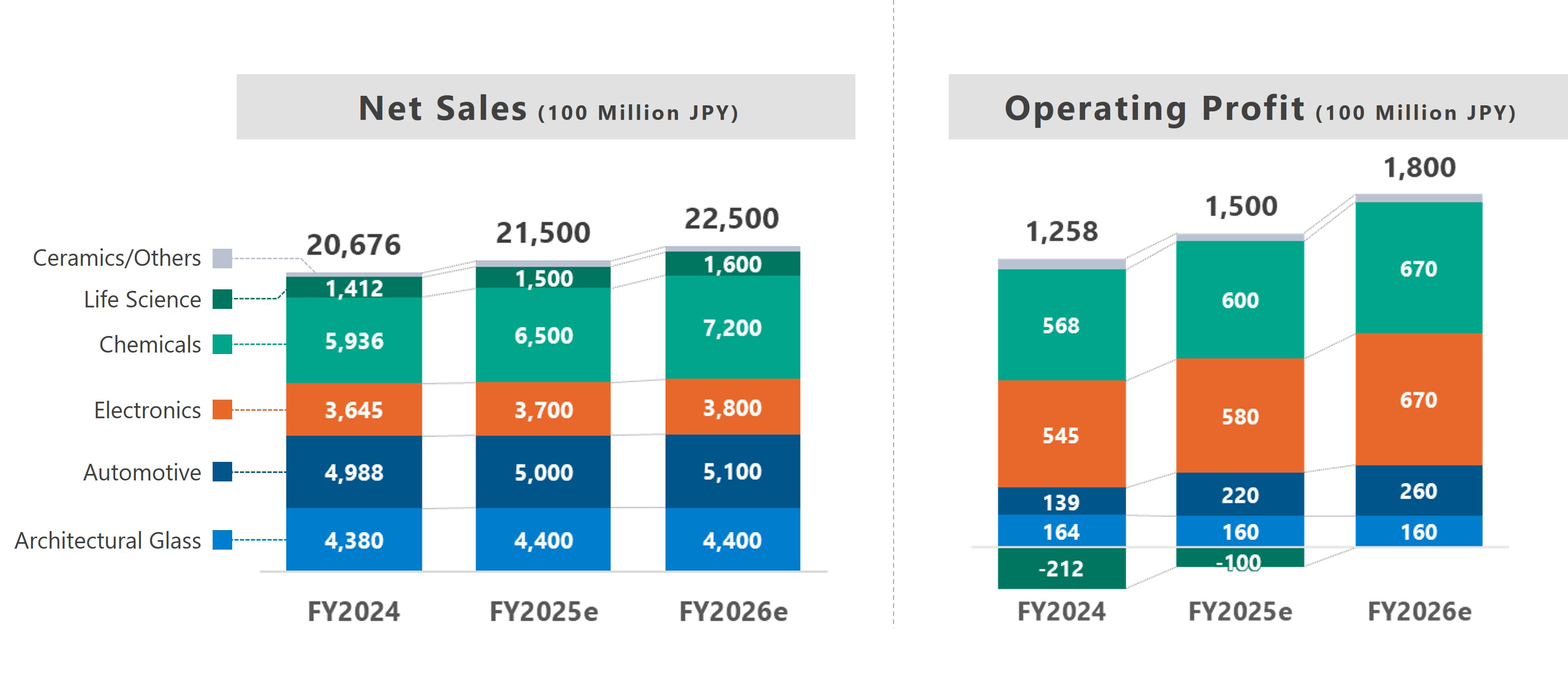 Key strategies

Q1.

What is the strategic direction of your business portfolio reforms?

A1.

We aim to achieve an "ambidextrous" management approach based on the deepening of core businesses and the further exploration of strategic business areas.
Under its AGC plus 2.0 management policy, AGC has been using "ambidextrous" management to deepen core businesses and explore strategic businesses. Our key priorities for each business under AGC plus-2023 are outlined below.

In terms of the allocation of investment resources, the Group will continue to strengthen investment in strategic businesses. We will also improve the asset efficiency of its each business and transform our business portfolio with the aim of maintaining a Group-wide return on capital employed (ROCE) of 10% or higher.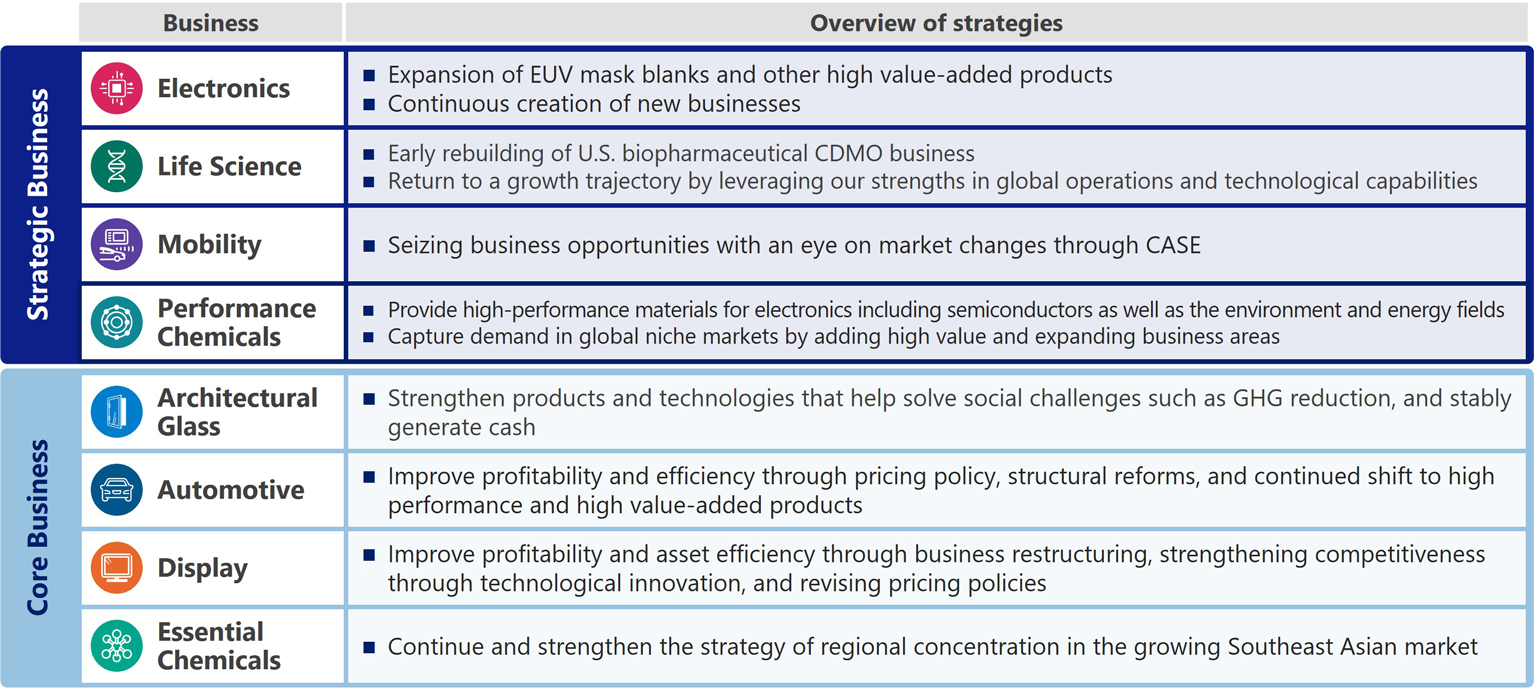 Q2.

What is your policy on the allocation of capital?

A2.

We are committed to maintaining a sound financial structure over the medium- to long-term future. At the same time, we plan to seize opportunities for investment in growth businesses, while also paying dividends and implementing share buybacks.
In addition to expanding operating cash flow through business portfolio transformation, cash generated from the sale of assets such as cross-held shares will be intensively allocated to investments in strategic and growth businesses.
Furthermore, the AGC Group's basic policy on shareholder return is to "maintain stable dividends with a consolidated payout ratio aiming for 40%, while flexibly implementing share buybacks". In line with this policy, the Group plans to secure investment opportunities in growth businesses and implement dividend payments and share buybacks while maintaining medium/long-term financial soundness.
The capital allocation policy for AGC plus-2023 based on the above business plan, investment plan, and shareholder return policy is as follows.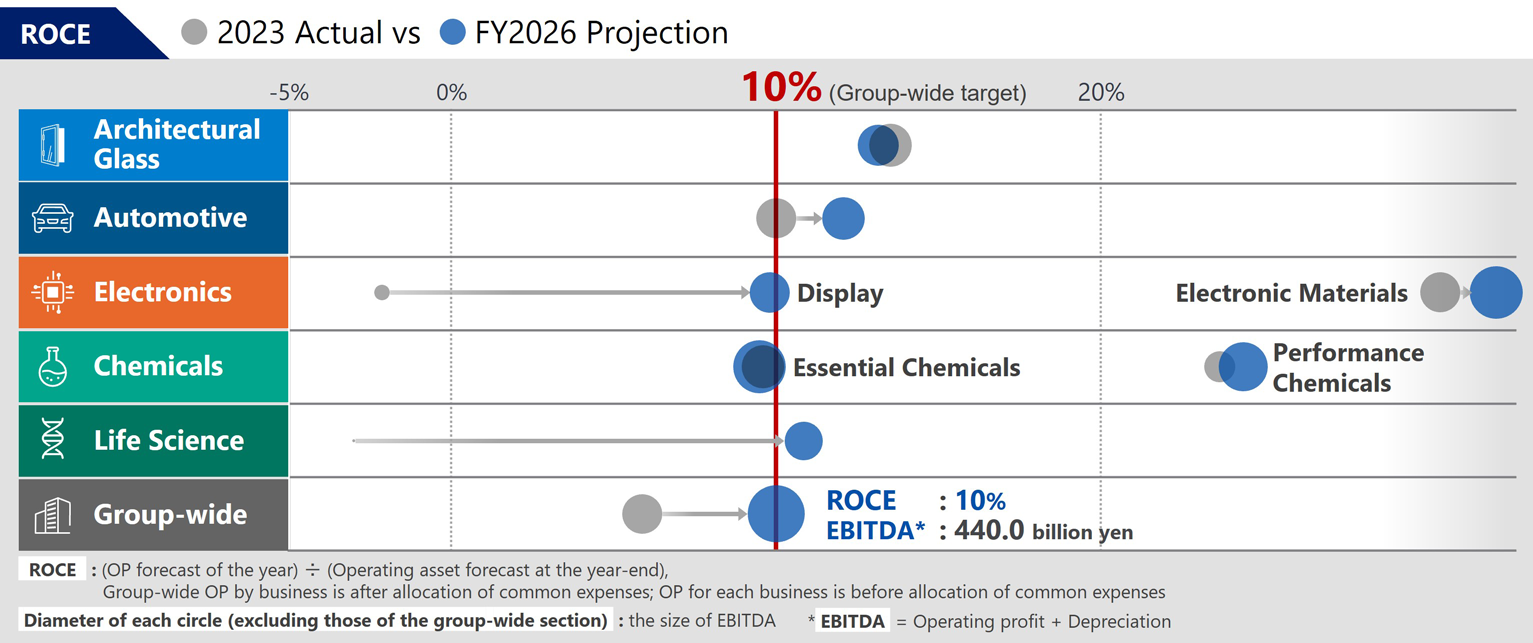 Q3.

Please outline your policy on sustainability management.

A3.

We aim to achieve net zero carbon emissions by 2050.
Throughout its history, AGC has built relationships of trust with its customers as a foundation for its efforts to address changing needs and solve social issues by taking up the challenge of research and development and business creation based on long-term perspectives. We will continue to fulfill our mission?"an everyday essential of our world"?by using our unique materials and solutions to contribute to global and social sustainability.
As part of our contribution to the realization of a sustainable global environment, we have set a new goal of achieving net-zero carbon emissions in 2050. As milestones, by 2030, we have set a goal of a 30% reduction in GHG emissions in Scope 1 and Scope 2, a 50% reduction in GHG emissions per unit of sales* (both compared to 2019), and a further 30% reduction in GHG emissions in Scope 3**.
*GHG emissions per unit of sales = GHG emissions / sales ** Total of category 1, 1, 11, and 12 of Scope 3 emissions

Q4.

What is your policy on DX initiatives?

A4.

We will develop human resources who combine highly specialized professional knowledge with advanced data analysis skills.
Until now, AGC has used digitalization to transform business processes in areas such as development and manufacturing, sales and marketing, and logistics. We are also focusing on the cultivation of digital talent who can support our transformation by combining highly specialized business knowledge with advanced data analysis skills. By the end of 2022, our in-house development programs had produced 3,500 data scientists, as well as 68 data experts capable of using data science to solve problems in their areas of activity. By 2025, we plan to train 5,000 data scientists and 100 data experts.
Going forward, the AGC Group will transform its business model by further advancing and combining the initiatives that it has cultivated up to this point. In this way, we will build a competitive advantage and provide new added value to our customers and society.