R&D Structure
Organization structure of R&D division in AGC
Not only the technology general division promoting R&D to develop innovative core technologies and new products, but also organizations responsible for the utilization of intellectual property rights, promotion of commercialization and reform of business processes in general are closely cooperating with each other to promote R&D flexibly.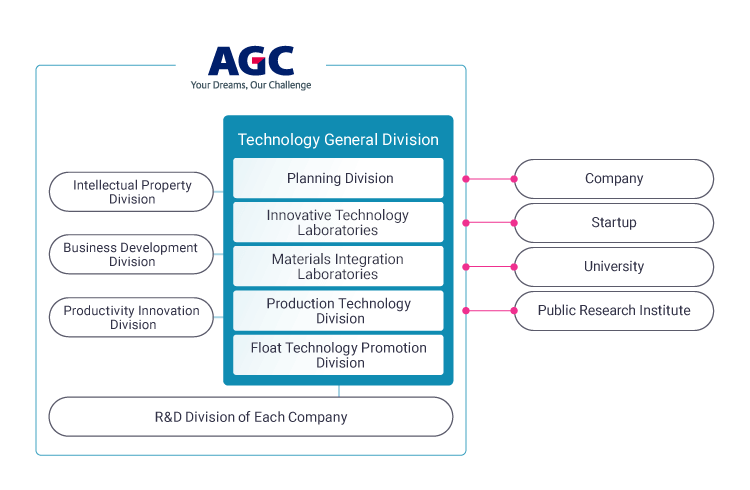 (As of July 1, 2021)
Planning Division
The Planning Division is responsible for planning and implementing AGC's corporate technology strategy with the aim of strengthening and expanding existing businesses and creating new businesses. The division promotes open innovation initiatives with external parties, such as industry-government-academia collaborations, as well as co-creation with internal and external parties by acting as the liaison between the Technology General Division and each in-house company. In terms of collaboration with external parties, AGC has been actively utilizing the AO (AGC Open Square) collaborative space in the AGC Yokohama Technical Center since November 2020. We are also working to promote smarter development and digital transformation (DX) by incorporating AI, MI (materials informatics), and other digital technologies. Furthermore, through the AGC Group's original GTNET (Global Technology Networking) activities, it will obtain information on innovative technologies and markets overseas, and make proposals for new business creation, strengthening of existing businesses, and development strategies.
Innovative Technology Laboratories -Disseminating innovative fundamental technologies that continuously support AGC-
The Innovative Technology Laboratories provide total solutions to products offered by AGC to the world by consolidating the development functions of the glass melting, forming, and fabricating processes and the inorganic and organic chemical processes, and integrating advanced analytical technologies and IT development functions. The Laboratories own a wide range of assets, from small-scale testing equipment to large-scale pilot plants, that can be used according to development phases. The Laboratories' mission is to ultimately make innovative technologies available for use in mass-production through the pursuit of the fundamental principles of science. Keeping a good balance between current and future tasks, the Laboratories seek to develop fundamental technologies for the future and to contribute to the creation of AGC's new values.
Materials Integration Laboratories -Creating new products and resolving technological issues from a market perspective-
The mission of the Materials Integration Laboratories is to develop unique materials using AGC's core technologies, to integrate technologies into composite materials and biological functionalization, and to create new products through these development efforts. Leveraging the technical expertise and resources amassed by research personnel with highly specialized knowledge in their respective technical fields and the material technologies and integrated technologies that have been developed by them, the Laboratories strive to offer products with new functions that exceed customer expectations. Furthermore, the Laboratories actively undertake technical collaboration on a public invitation basis and technical exchanges with other companies to further pursue open innovation initiatives.
Production Technology Division -Rapidly moving to mass production of new products to solidify AGC's competitiveness-
The Production Technology Division is responsible for the development and improvement of production technologies, equipment and plant engineering technologies, and the design, installation, and maintenance of production facilities. The Division provides technical support to the AGC Group in its manufacturing processes. For this reason, the job duties of the Division members range from the development of the latest glass melting and molding technologies to overseas plant startup. The Division also works with entities both inside and outside the Technology General Division from the design and development stage to seamlessly integrate process development and plant engineering technologies, as a way to accelerate its efforts to develop the latest technologies and achieve competitive quality and costs.
(To accomplish AGC's Vision 2025, the Production Technology Division is committed to helping AGC to achieve new growth by further improving its production base and proposing values created by technical development to customers.)
Float Technology Promotion Division
The Float Technology Promotion Division builds and supervises the platform of technology and know-how of "float process" which AGC has accumulated over many years and adopts in the flat glass manufacturing process.
The division will further stabilize the process promoting its sophistication toward the future, as well as utilizing and training human resources from a company-wide perspective. The division also takes actions across the organization in anticipation of the realization of smart factories that make full use of ICT/AI technology.
Intellectual Property Division
The Intellectual Property Division is an organization that acquires and utilizes intellectual property rights such as patent rights and trademark rights from intellectual assets created by corporate activities and promotes activities that lead to continuous business revenue.
The division formulates and implements intellectual property strategies not only for traditional patent applications and rights, but also for securing business superiority, and to promote and develop standardization activities throughout the company in order to take initiatives in the industry.
Business Development Division
The Business Development Division is an organization that contributes to the continuous growth of AGC by proposing and promoting new businesses through creation activities ranging from marketing, incubation and business transfer to the company.
In addition to working on expanding the promising materials from macro trends, the division also plays the role of planning commercialization of difficult projects which are difficult for the company or SBU to handle. For that reason, the division not only cooperates with various organizations such as Building & Industrial Glass Company, Automotive Company, Electronics Company, Chemicals Company, AGC Ceramics and Technology General Division, but also proposes and promotes new businesses in cooperation with partners through such as MA, JV, JD, etc. outside the company.
In addition to the activities in Japan, we conduct global new business development activities in collaboration with AGC Business Development America, AGC China, etc.
Productivity Innovation Division
The Productivity Innovation Division is an organization that promotes reform projects on all business processes across the business fields. While utilizing various business know-how, IT tools, IE, data science, etc., they support productivity innovation tailored to business needs such as improvement in productivity at the manufacturing site, building a supply chain management scheme, business design for sales marketing, supporting new mass production, exploring new partners, and reforming the way of work style.