October 28, 2020Management
AGC Biologics Expands Cell and Gene Therapy CDMO Services
Molecular Medicine S.p.A. renamed to AGC Biologics S.p.A.
AGC (Headquarters: Tokyo; President: Takuya Shimamura) has announced that Molecular Medicine S.p.A. (Headquarters: Milan, Italy), which became a 100% subsidiary of AGC on September 30 following a tender offer process, has been renamed to AGC Biologics S.p.A. AGC's biopharmaceutical CDMO*1 business unit, AGC Biologics, now offers cell and gene therapy CDMO services as part of its global network.

Cell and gene therapy is a therapeutic method in which cells or genes carrying the target genes are administered into the body. It is currently attracting high attention as one of the most advanced medical therapies. Remarkable advances have been made in this field, and approximately 1,000 clinical trials are currently underway around the world. The related CDMO market is accordingly expected to see considerable growth.
AGC Biologics S.p.A., as the center of excellence of AGC Biologics' cell and gene therapy services, conducts process development and manufacturing based on its platform technology for cell processing and viral vector*2 manufacturing, offering GMP*3 compliant services to various customers, from biotech ventures to major biopharmaceutical companies. From its location in Milan, it will serve customers as part of AGC Biologics' global network.
Under
AGC plus
management policy, AGC Group has positioned its Life Science business including its biopharmaceutical CDMO services, as one of its strategic businesses. The Group has been expanding its Life Science business through multiple acquisitions and capital investments in biopharmaceutical services using mammalian cells and microorganisms, as well as in synthetic pharmaceutical and agrochemical services. From such activities, AGC's Life Science business is expecting to achieve its initial sales target of over 100 billion yen two to three years ahead of its original 2025 target schedule. By expanding the scope of its CDMO business into the rapidly growing field of cell and gene therapies globally, AGC continues to strive to be a company that actively contributes to the pharmaceutical companies, patients, and the wider society as a whole.
Notes:
*1 CDMO: Contract Development & Manufacturing Organization. A company which is contracted or acts on behalf of another company to serve product manufacturing as well as the development of manufacturing processes.
*2 Vector: A vehicle used to carry the target gene into a cell.
*3 GMP: Good Manufacturing Practice. A standard for the manufacture and quality management of pharmaceutical and quasi-pharmaceutical products.

REFERENCE
■AGC Group's CDMO Business Sites
■AGC Group's recent regional/ technological expansions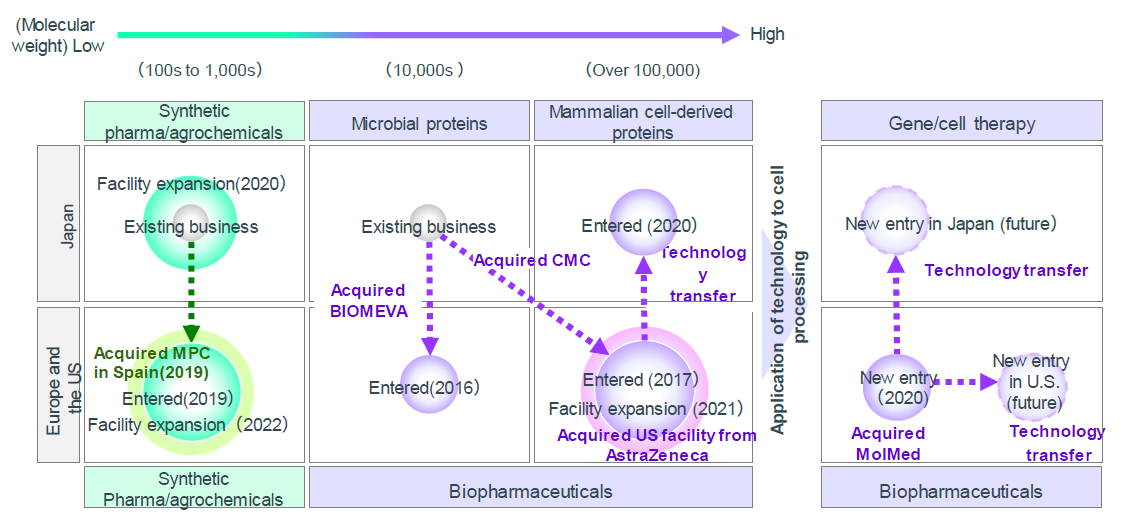 MEDIA INQUIRIES

Kazumi Tamaki, General Manager, Corporate Communications & Investor Relations Division
AGC Inc.
Contact: Tomoko Nakao
E-mail: info-pr@agc.com