March 16, 2023Environment & CSR
AGC Recognized as a "Supplier Engagement Leader" Company with the Highest Rating in the "Supplier Engagement Rating " by CDP
AGC (AGC, Inc.; Headquarters: Tokyo, President: Yoshinori Hirai), a world-leading manufacturer of glass, chemicals and high-tech materials, was recognized as a "Supplier Engagement Leader" company, the highest rating awarded under the Supplier Engagement Rating, by CDP, an international non-profit organization which operates a global disclosure system for investors, companies, cities, states, and regions to manage environmental impacts, announced on March 15. This is the first time for AGC to be recognized as a "Supplier Engagement Leader". AGC was also recognized as an "A-List Company," the highest rating in CDP's 2022 "Climate Change", in December 2022.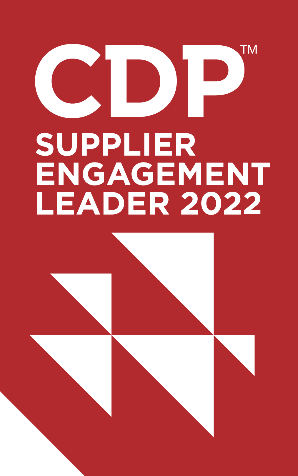 The Supplier Engagement Rating evaluates how effectively companies work with their suppliers on addressing climate change issues. Companies receiving the highest rating are awarded as Supplier Engagement Leaders. In fiscal year 2022, the top 8% of companies evaluated for their supplier engagement on climate change were selected as Supplier Engagement Leaders.
The AGC Group has set "Promotion of Sustainability Management" as one of its key strategies and is aiming for net zero carbon footprint by 2050. As a milestone, in 2021, the Group declared an interim target of a 30% reduction in GHG emissions in Scope 1 and Scope 2 by 2030, compared to 2019 levels. In 2022, the Group also announced a 30% reduction*1 (compared to 2019 levels) by 2030 as its Scope 3 GHG emission reduction target in the value chain. The Group has also obtained SBT certification from SBTi, an international climate change initiative. We believe that this selection is a result of our efforts such as encouraging 30% of our major suppliers to set GHG emission reduction targets*2 by 2027 in order to achieve the Group's Scope 3 reduction targets, while conducting business activities in a wide range of fields as a material manufacturer.
The AGC Group will contribute to the realization of a sustainable global environment through the creation of social and economic value by realizing its Long-Term Management Strategy "Vision 2030" through portfolio transformation and the pursuit of sustainability management.
*1 30% reduction in Scope 3 GHG emissions related to the purchase of products and services, and the processing, use, and disposal of the products sold.
*2 GHG emission reduction targets include Category 1 and 3 of Scope 3, covering GHG emissions from purchased products and services. It also includes fuel and energy activities not included in Scope 1 and 2.
<Reference>
The list of companies recognized as a Supplier Engagement Leader
https://bit.ly/SERLeadership22
CDP Supplier Engagement Rating Methodology 2022
■About CDP
CDP is a not-for-profit organization that runs the global disclosure system for investors, companies, cities, states and regions to manage their environmental impacts. Each year, CDP analyzes and evaluates the environmental initiatives and disclosures of the world's major companies in three areas: climate change, water security and deforestation.
Media inquiries

Chikako Ogawa, General Manager, Corporate Communications & Investor Relations Division
AGC Inc.
Contact: Nakao