Glass is an indispensable material for our daily lives. From buildings such as houses, offices, shops and public facilities to cars, TVs, tableware, smartphones and tablet devices, etc., we have many opportunities to interact with glass as a practical product. On the other hand, glass has also been playing an important role in the field of luxury goods with superior designs such as jewelry, stained glass windows, traditional crafts, and art works from the ancient times.
AGC has been offering diverse types of glass in various industries, and is pursuing new attempts to expand the possibilities of glass more than ever: utilization of glass and other materials focusing on a "design perspective". In addition to conducting R&D, we are working to draw new attractiveness from glass with the power of design, in cooperation with architects, industrial designers, space designers and product designers who connect products and users.
As a pioneer of glass materials, AGC actively works with designers who have original and creative ideas. Working together doesn't mean a one-way relationship in which AGC just provides new materials and intermediate processors and designers finish them. We are collaborating with each other, and we are discovering the attractive usefulness and new possibilities of each industrial product by discussing and exploring solutions.
Tomoya Sato (NOMURA Co., Ltd.), who works on space design for commercial facilities, is one of our partners. He was in charge of interior renewal of the showroom "AGC Studio" in Tokyo, where we can touch AGC's merchandise and solutions. We asked him about the relationship between glass materials and design.
"If I am asked to mention the unique appeal of glass among all kinds of materials, I would say it is its transparency that can affect people's emotions unconsciously. For example, if we add a frame to a painting or a photograph, it will give a change in how the painting looks and how we feel about it. The same applies also to glass in the architectural designs of commercial facilities. By using glass for their facade, new expressions and values can be portrayed. In addition to transparent glass, color glass, with its properties to transmit and reflect light, can also effectively convey the image of the spaces along with the atmosphere inside the store.
It should be mentioned that glass also has high potential as a building/product material. Although all glass may look similar, various features such as shading, heat resistance, scattering prevention, etc. can be added to it depending on the application. Stones, trees, and metals have a superficial diversity which directly connects to their appearance, but they do not have so much multifunctional aspect as glass. I believe it is our job as designers to draw out its appeal as a material by understanding its nature. "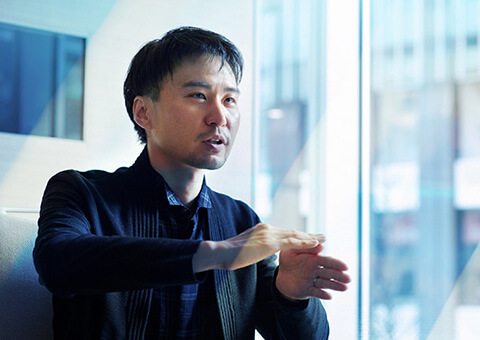 Tomoya Sato discovers the possibilities of glass in commercial spaces through the power of design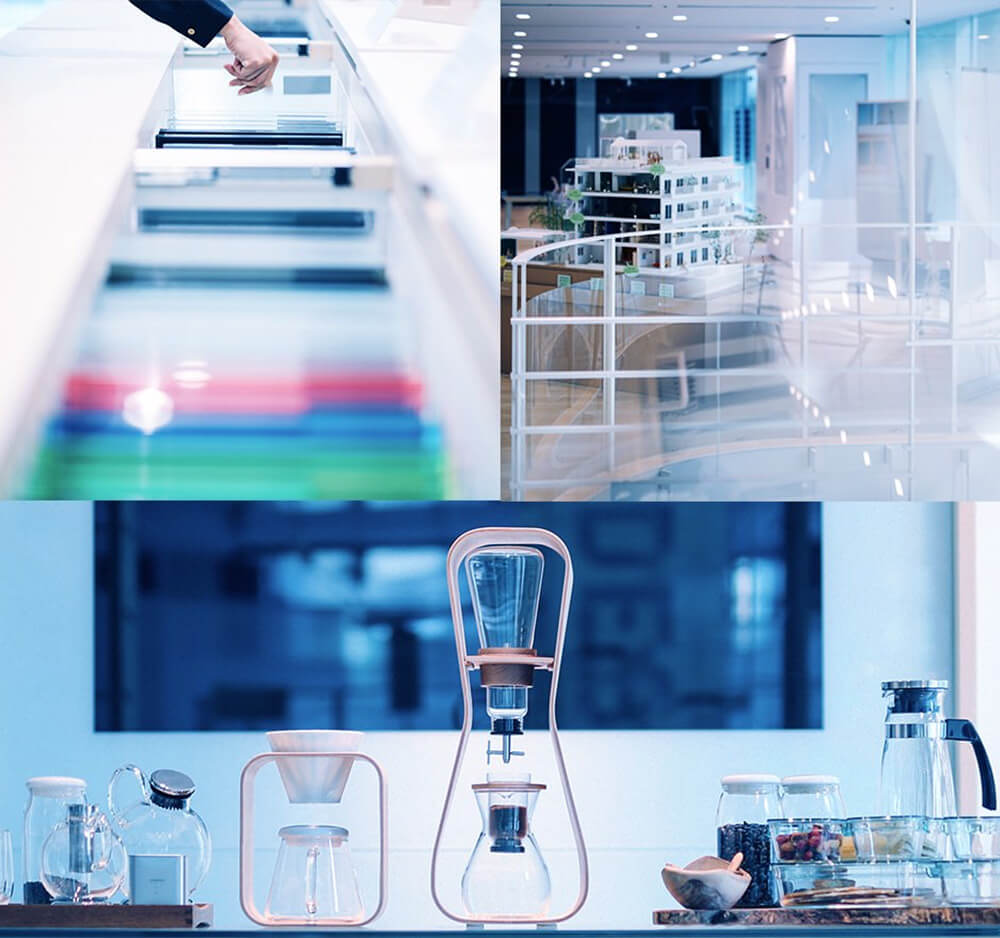 At AGC Studio, anyone can touch glass inside. You can see and experience AGC glass products and feel how they are connected to people's lives.
AGC Studio reopened after renovation in 2017. It introduces case examples (solutions) of AGC's products and materials through exhibition on the first floor, and exhibits the parts used in the solution on the second floor. AGC products are used everywhere in the interior as well, so that everyone who visits the studio, from general users to specialists, can concretely image the use of materials just by looking at the interior.
"AGC Studio is a place where AGC builds a relationship with its customers. We designed it so that you can feel the difference between AGC's glass and ordinary glass in daily life, even without explaining the product in detail. The image of the first floor is a "cafe" where people can relax. We used painted glass, Lacobel™, with relaxed tones of brown and beige. We thought that this may make people feel like being in a cafe intuitively in association with similar colors to coffee and tea. The place looks spacious as the glass reflects the scenery and gives a sense of depth. We would be happy if the AGC products at the studio help people realize new ways to utilize glass and its unexpected features, and the place makes people want to use the products."
Mr. Sato said he reaffirmed AGC's high standards in product development and technology through this project. He also mentioned that he realized how AGC approaches design and its attitude to it, which AGC emphasizes in recent years.
"What surprised me is AGC's extensive knowledge and ideas about processing technology and finishing details. For example, the cut surfaces of some of the glass used at AGC Studio are light chamfered to 0.5 mm. Generally, 1 mm is used but AGC proposed 0.5mm because this will produce more tension and beauty than 1 mm does. To be honest, I could not come up with this idea. AGC is true professionals of glass, knowing that this 0.5 mm difference brings out the attractiveness of the material to its full extent. In that sense, we can tell that they develop and manufacture products solidly from a design perspective. Spatial design consists of an accumulation of details, and I felt the importance of overlaying ideas and technologies of both manufacturers and designers once again."