I want to expand the possibilities that lie beyond "perfect" with a company that makes perfect products
Suzuki To me, this year's design also had a deeper, hidden theme, which is that there are possibilities that lie beyond just the value that Japanese companies pursue.
Suguro Oh really. I didn't realize you thought that.
Suzuki Yeah, sorry for not telling you before (laughs). This hidden theme is the mindset towards manufacturing and quality. Japanese companies make things of perfect quality. For example, it's common sense to think that dusty or scratched glass is no good. But there is also another perspective that says 'that is precisely what makes it beautiful.'
Although 20th century has been an era of perfection, these days a more diverse set of values has emerged. People are demanding things that evoke emotion―that go beyond perfect.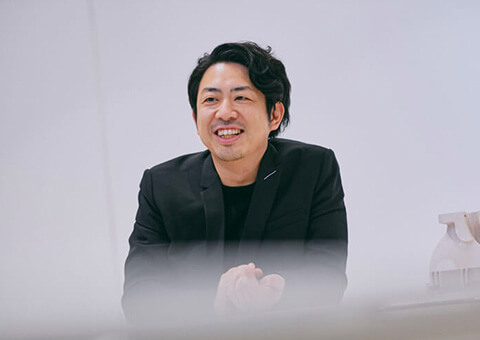 Glass and ceramics―the two different materials Mr. Suzuki used to express the beauty of nature. He explains that, to designers, Milan Design Week is a place of inspiration where they come to catch the latest trends.
No one is impressed by the concept of being able to create a perfectly scratch-free beautiful object. This exhibit showed everyone the possibilities that lie beyond "perfect" with AGC, a company that makes perfect products.
One hint came from a sense of craftwork, which is trending in Europe now. Materials and products that each look slightly difference from each other are growing in popularity. You might even say it's a craft boom like never seen before.
I wanted to show that Japanese companies, especially because of their ability to make perfect products, can also make things that have a remarkable sense of craftwork.
Suguro That's interesting. I also had a strong desire to create something that no one has ever seen, and give people a sense of wonderment. I take great satisfaction in the fact that, through our collaboration, we can make people discover a new kind of value. We also gain a greater sense that developing new materials might lead to new designs.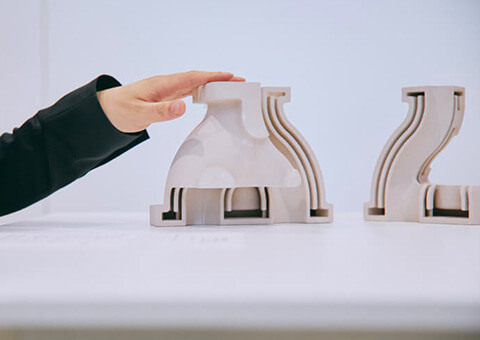 Molds made with AGC's ceramic molding material for 3D printers. The installation also took advantage of these advanced capabilities