Collaborating while deepening understanding and exploring together amid the COVID-19 pandemic
The project seemed to be off to a smooth start, but an unexpected obstacle, the COVID-19 pandemic, abruptly stood in the way of the members. Consequently, the original plan to have AGC and JAID members collaborate through materials at the YTC AO was shattered rather easily. How did the members overcome this situation and make the exhibition a reality?
Mr. Noguchi The lack of a common language between us and the samurai at AGC was more of a problem than the fact that we were mainly meeting online due to the COVID-19 pandemic. For interior designers like us, communicating with the engineers in charge of design at our companies is something we do as a matter of course, so I thought it would be similar this time. But, in reality, it was completely different.

The AGC people were not used to talking to designers, and it was not easy for designers to understand the AGC brand statement, "Your Dreams, Our Challenge." The interior designers and engineers of automobile manufacturers search for a happy medium after each pushing their own agendas, clashing at times before setting priorities.

However, in the collaboration with AGC, the stance was to achieve what the designers wanted to do rather than AGC's aims, and it took some time to get used to that perspective.

Mr. Endo Our engineers would clearly say "It cannot be done" if they thought something was not possible. However, AGC's samurai were willing to take on the challenge of difficult proposals by saying, "I'll do it" or "I'll try." As a result, even if I failed, I was able to pivot to a different direction immediately, so it was a very fresh feeling different from my normal work.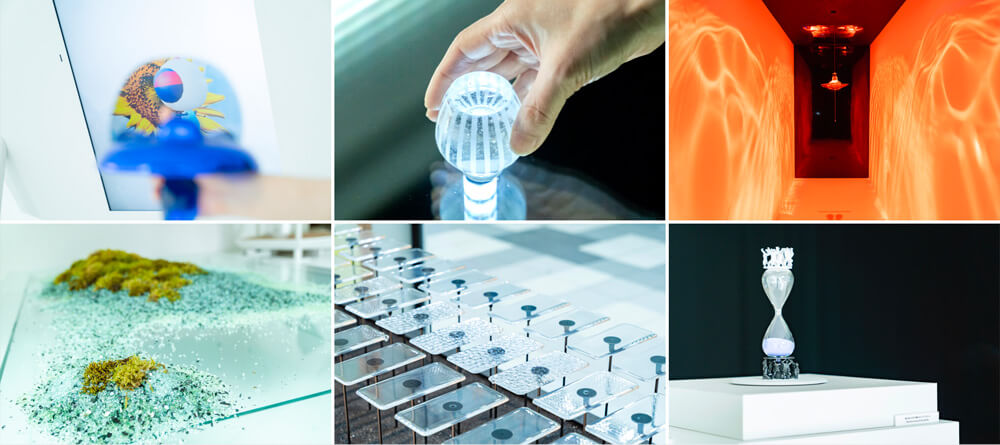 A variety of works were created through the exploration and challenge of both the samurai and the designers.
Mr. Tanaka I agree. I thought of my AGC counterparts as engineers and communicated my intentions to them as such, but when I saw what they came back with, I often felt that I hadn't been successful in fully conveying them. Eventually, I realized that the samurai at AGC were not engineers, but researchers who develop materials. After that, I communicated with people at my own company in similar roles in the same way when interacting with them and our communication improved tremendously.

Mr. Sasaki Designers start with feelings and sensations, and then go through the process of connecting them to the final product. In contrast, AGC calculates backwards from the output and considers the process in terms of logic. Because of this, at first we didn't understand each other at all, and we exchanged our opinions again and again until we came to speak a common language.

Mr. Sasajima We had the same experience, and it made me realize that I might not be getting my point across well enough to our own engineers as well. In that sense as well, this collaboration was a very good experience for us.

Ms. Yamamoto We at AGC have developed the habit of always thinking in terms of function. Therefore, when we look at a design, we first break it down into its constituent elements and try to find the shortest solution as to what functional materials are needed. However, when I talked with the interior designers, they often used onomatopoeic expression such as "twinkle" and "beep" to describe their work, and it was difficult to translate and convert them into material functions.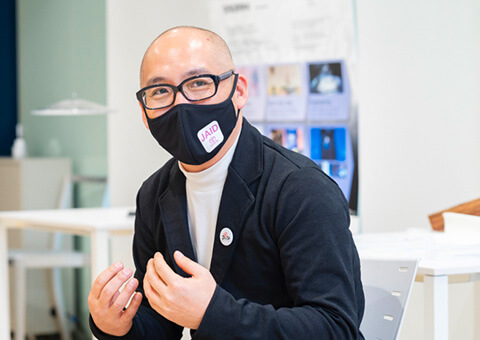 Mr. Sasajima Looking back, We only had a few face-to-face meetings with the AGC samurai and we were forced to exchange opinions and hold many of the meetings online. Although it was unavoidable, I think that if we could have communicated more deeply, we could have learned more about AGC's materials other than glass.

Mr. Nakajima One of the goals of JAID is to gain outside knowledge and experience, but in this collaboration, we were not able to do so fully due to the limitations imposed by COVID-19. Therefore, this exhibition was just a warm-up, and I would like to make the next one like a glass that transcends glass, something that will blow us designers away. I think glass has that much potential.
Mr. Tanaka Deepening communication will be a requisite to accomplish that. If we could understand each other much better, we might have thought great things could be achieved by collaborating with AGC.

Mr. Sasaki If there's a next time, I'd like to have the AGC samurai join us from the stage of placing sketches on the floor, so that we can frankly exchange opinions and we'll get more interesting output.