Eliminating the presence of the glass and expressing "things that float in a space that can be felt with the skin"
For this public artwork, about 600 dichroic mirrors of six types, with different sizes and differing penetrating light, were arranged on a massive plate about 6.5 meters long and about 1.5 meters tall. What was it that Nakanishi wanted to express through this artwork?
Nakanishi This artwork is one of series of works that use a technique called "stripe drawing." My stripe drawings are line drawings that are made up of an infinite number of lines that I draw freehand. With them, I try to express things that float in a space that can be felt with the skin," such as air flow, humidity, and light, using only the elements of the lines and blank space. I have been using this method for nearly 20 years, but for this particular work, I replaced the lines with glass to pursue a "sculpture of light and color." With sculpture, you are usually handling tangible materials that you can touch. With this work, however, although you can't touch it, it is definitely a sculpture that has a shape and a presence and it is a piece that it expresses something that I could only have created with glass.
Enyo From your viewpoint, what is the appeal of glass as a material?
Nakanishi The light that passes through glass, its straight, hard lines, and the beauty of its plains, as well as the sense of tension that can be felt from these elements are its charms, I think. If I had used film, it would have had an impact on its surroundings as a substance, such as bending and swaying in the wind. Glass, on the other hand, has straight lines and does not bend and sway, so as a substance, it has a feeling of being separated from the movement of the wind flowing around it. That's why glass can be seen more clearly as an image, and its structure of clear layers can be seen more clearly.
Enyo I saw the almost-complete work, and I was very impressed, thinking, "Oh, that's what happens." I am quite excited about how it will look once the light angles and other aspects have been finally decided.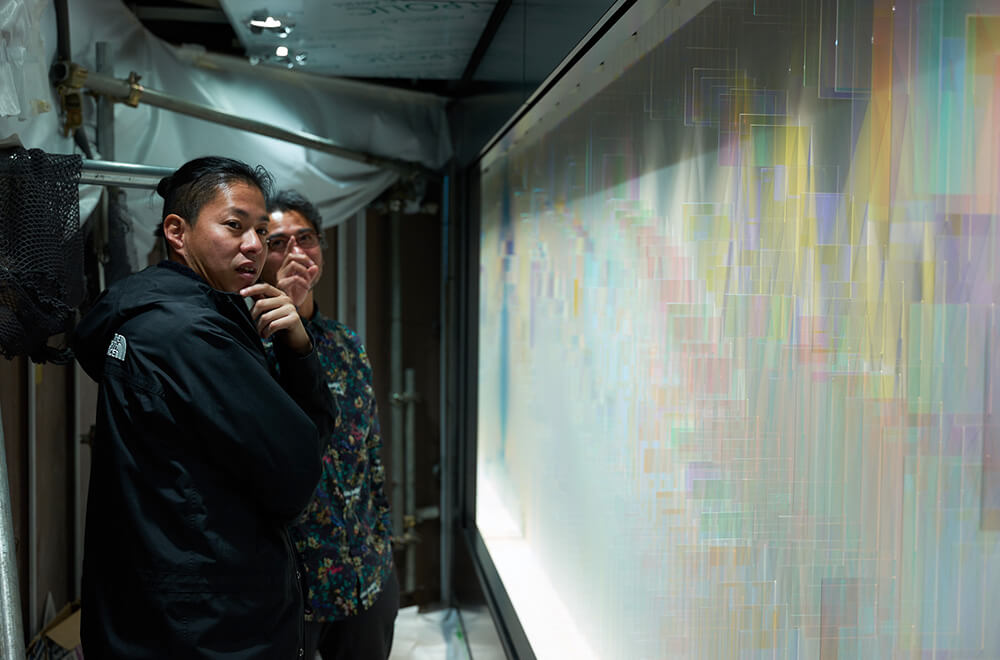 Nakanishi checking the lighting at the installation site
Nakanishi  I am actually excited, too (laughs). Once it's finished and it is what I have been aiming for, the presence of the glass should disappear, and the colors reflected there should stand out as a sculpture in themselves. As a sculptor, I had been thinking about how I should give shape to the material, but this time, I made a point of trying to showcase the characteristics of this material called "dichroic mirror." The place where this artwork has been installed also faces outside, so the intensity of the light and that way it shows will vary depending on the season and the time of day. The exhibition space is located at a railway station in the center of Tokyo, so many people will pass in front of the work every day. How the work looks will depend on the season, the weather, the humidity, where the people viewing it are standing, and how even their moods on that day. I hope they feel that flow of time through those changes.