AGC's window glass for schools helps improve energy savings and disaster prevention
Schools are the places where children spend most of their time and it is essential that they have a comfortable environment for studying and are equipped with equipment that ensures safety and security. The Ministry of Education, Culture, Sports, Science and Technology of Japan is working to strengthen energy savings and disaster prevention functions of school facilities. It aims to enhance safety in the long term and reduce environmental burdens through repairs and renovations instead of simply rebuilding school facilities. One solution attracting attention today is AGC's high-performance window panes specializing in safety, comfort and environment.
AGC supplies various types of safety glass for schools, including laminated glass, tempered glass and Low-emissivity (Low-E) double glazing, which is applied with the heat insulating and shielding metallic coating. In Japanese elementary and junior high schools, there were 80 schools using our glass from the period of January 2015 to May 2017. We provide security and safety for children's daily learning environment.
Glass that is resistant to earthquakes or typhoons — safer evacuation places for both students and local residents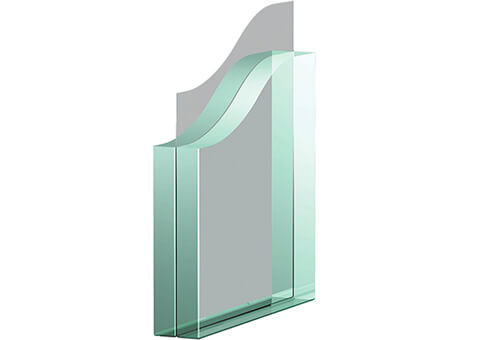 Structure of "laminated glass", which do not scatter when broken.
Elementary and junior high schools want to prevent window glass breakage caused by earthquakes or typhoons. In particular, since the Great Hanshin-Awaji Earthquake in 1995 and the Great East Japan Earthquake in 2011, schools have accelerated seismic resistance improvements of school buildings. Serving well for this purpose is laminated glass and tempered glass. Laminated glass has penetration resistance greater than conventional glass. Tempered glass is about 3 to 5 times stronger than conventional glass and provides disaster prevention performance. It is also breakage resistant, so that even if it gets broken, the fragments become granular without sharp edges, suitable for disaster measures.
Such high-performance glass plays an important role in the corridors that students walk through as evacuation routes, and in gymnasiums, which are used as local evacuation sites in case of disasters. Hiragino Elementary School and Shimotoba Elementary School in Kyoto City, Japan, adopted AGC's glass for environmental improvement suitable for education and enhancement of evacuation site functions. We provide security and safety for local residents as well as students and teachers.
A more comfortable learning environment, with double glazing alleviating heat and cold
AGC has developed double glazing units to help make people's lives comfortable. Double glazing consists of two sheets of glass, the hollow layer between generating a heat insulation effect. Low-E glass with Low-E coating improves the heat insulation capabilities and energy savings. The demand for Low-E glass has increased in areas with wide temperature range and in elementary and junior high schools with air-conditioners.
Kakujo Elementary School in Aizu-wakamatsu City, Fukushima Prefecture introduced tempered Low-E double glazing as a countermeasure to the cold in winter, leading to the enhancement of its heat resistance capability. At Midorigaoka Junior High School in Nakatsu City, Oita Prefecture, where the temperature is high throughout the year, a combination of air conditioners and Low-E double glazing significantly improved the comfort in classrooms, making the children happy. At Hiragino Elementary School and Shimotoba Elementary School in Kyoto City, where it is humid and hot in summer and bitterly cold in winter due to its location as a basin, physical education classes used to be very hot. A combination of Low-E double glazing and blowers in the gymnasium made the classes significantly more comfortable.
AGC's high-performance window glass provides comfortable learning environments through high energy saving performance such as insulating and shielding capability, also preventing damage from broken and falling glass during earthquakes and typhoons. It is expected that future schools will be required to act as hubs for local communities, and we will also contribute to society by developing high-performance glass for schools, helping everyone from the young to the elderly.