AGC's infoverre
™

Window Series Bar Type Adopted for Keihan Electric Railway 3000 Series Premium Cars
AGC (Headquarters: Tokyo; President & CEO: Takuya Shimamura) and ParaSign (officially Kotsu Dengyosha Co., Ltd.; Headquarters: Osaka; President: Takeiki Aizono) have combined efforts to develop in-train signage for Keihan Electric Railway, resulting in AGC's 'infoverre
™
Window Series Bar Type' glass signage which will be adopted in Keihan Electric Railway's 3000 Series Premium Cars
*1
, slated to begin operation in January 2021. This marks the world's first-ever
*2
installation of destination-info displays for viewing from the train exterior that are integrated into the car's side window. infoverre
™
is also being used for passenger-facing info displays inside the train.
In 2013, AGC developed infoverre
™
, a product with distinct advantages including outstanding visibility, design, and space efficiency. Today this product is being used for digital glass signage in trains, platform screen doors in stations, departure info displays and a variety of other locations.
The 'infoverre
™
Window Series Bar Type' is a product with a liquid crystal display encased within the cavity of double-glazed glass, which was achieved by combining AGC's multi-layer glass manufacturing technology with the product development and manufacturing technology of infoverre
™
. ParaSign technology is used to control the LCD. Its key features are as follows:
・A miniaturized control PCB (printed circuit board) that uses specialized long-distance image transmission technology to separate certain control functions from the display and mount them on the exterior.
・Achieves space efficiency and stylish design by encapsulating an ultra-compact control PCB, which fits in the mere 16 mm cavity of 26 mm thick double glazing, and an destination-info display.
・Provides both clear visibility from the exterior and ample durability by integrating the liquid crystal display and double glazing.
・Maintains the energy-saving and condensation-preventing benefits of double-glazed glass by utilizing specialized transmission cables with superior airtightness.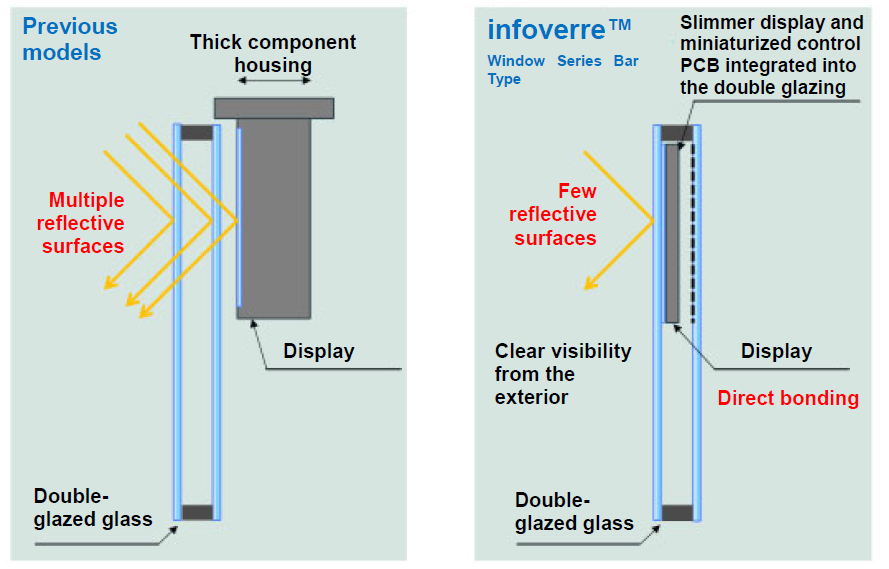 AGC and ParaSign plan to continue contributing to the realization of next-generation rail cars that allow riders to enjoy an environment of safety, peace-of-mind and comfort.
Notes:
*1 Keihan Electric Railway's special designated-seating trains. Of the six newly-constructed cars in the 3000 series, the sixth car is scheduled for installation of this new product.
*2 According to AGC research as of April 30, 2020
REFERENCE
About the AGC Group
AGC Inc.(Headquarters: Tokyo, President & CEO: Takuya Shimamura) is the parent company of the AGC Group, a world-leading glass solution provider and supplier of flat, automotive and display glass, chemicals, ceramics and other high-tech materials and components. Based on more than a century of technical innovation, the AGC Group has developed a wide range of cutting-edge products. The AGC Group employs some 50,000 people worldwide and generates annual sales of approximately 1.5 trillion Japanese yen through business in about 30 countries. For more information, please visit
www.agc.com/en
MEDIA INQUIRIES

Kazumi Tamaki, General Manager, Corporate Communications & Investor Relations Division
AGC Inc.
Contact: Yuki Kitano
E-mail: info-pr@agc.com