These products feature thermal expansion characteristics which are extremely close to that demonstrated by silicon within a wide range of temperatures. They can be firmly bonded to silicon substrates (basal plates) through anodic bonding. As such, these products are used for support glass and wafer level packages of MEMS sensors.
Main Applications
Wafer level packages for MEMS substrates (basal plates)
Pressure sensors and acceleration sensors
Features
MEMS elements feature very fine and fragile structures, the type of which experience movement due to static electricity. As such, wafer level packages are often used to bond and seal together glass and silicon prior to the dicing process using a bonding method called "anodic bonding."
• Sensors featuring structures such as this detect, with a high degree of sensitivity, changes in pressure and acceleration which result from the distortion seen in the microstructures of silicon. If a difference exists in terms of the thermal expansion coefficients of the silicon and glass, the output voltage ends up fluctuating in contrast with the distortion experienced by the silicon. This may affect the precision of the sensors.
While borosilicate glass has traditionally been used for anodic bonding, we provide a series of products called the SW Series, which further conforms with the thermal expansion characteristics of silicon single crystals. There are currently three types of glass products in the SW Series: SW-3, SW-Y and SW-YY. The SW-YY product features great thermal expansion characteristics and also allows anodic bonding to take place at temperatures which are 50 to 100 degrees (Celsius) lower than that experienced during instances where conventional borosilicate glass is used.
Table: Glass Wafer Characteristics
Unit
SW-3
SW-Y
SW-YY
Borosilicate glass
Thermal characteristics
Thermal expansion coefficient
×10-7/°C
36
33
33
33
30 to 300°C
Strain point
℃
615
630
590
510
Japanese Industrial Standards (JIS)
Annealing point
℃
660
675
640
560
Japanese Industrial Standards (JIS)
Softening point
℃
890
895
850
820
Japanese Industrial Standards (JIS)
Mechanical characteristics
Specific gravity
2.54
2.52
2.46
2.23
Young's modulus
GPa
80
78
82
64
Resonance method
Rigidity
GPa
34
33
34
27
Resonance method
Poisson's ratio
0.19
0.18
0.2
0.2
Resonance method
Vickers hardness
GPa
6.1
6.1
6.1
6.1
Optical characteristics
Refractive rate
1.520
1.519
1.518
1.474
nd(589.3nm)
Electrical characteristics
Volume resistivity
Ω・cm
10.6
10.7
10.3
11.4
100℃
8.3
8.3
7.8
9.4
200℃
Dielectric constant
6.1
6.0
6.3
4.6
Room temperature (1 MHz)
Dielectric dissipation factor
0.01
0.01
0.01
0.01
Room temperature (1 MHz)
Chemical characteristics
Acid resistance
mg/cm2
0.30
0.16
0.09
0.01
Immersion in 1/100N HNO3 at 95℃ for 20 hours
Alkali resistance
mg/cm2
0.09
0.17
0.16
0.14
Immersion in 5% NaOH 80℃ for 1 hour
80°C for 1 hour
Water resistance
mg/cm2
0.05
0.07
0.05
0.04
Immersion in pure water at 95℃ for 40 hours
Other
Alkali component
Na20
Na20
Li20
Na20
Features
General product
Low-expansion product
Low expansion product, low-temperature bonding
Thermal Expansion Characteristics (Comparison with Silicon and Other Types of Glass)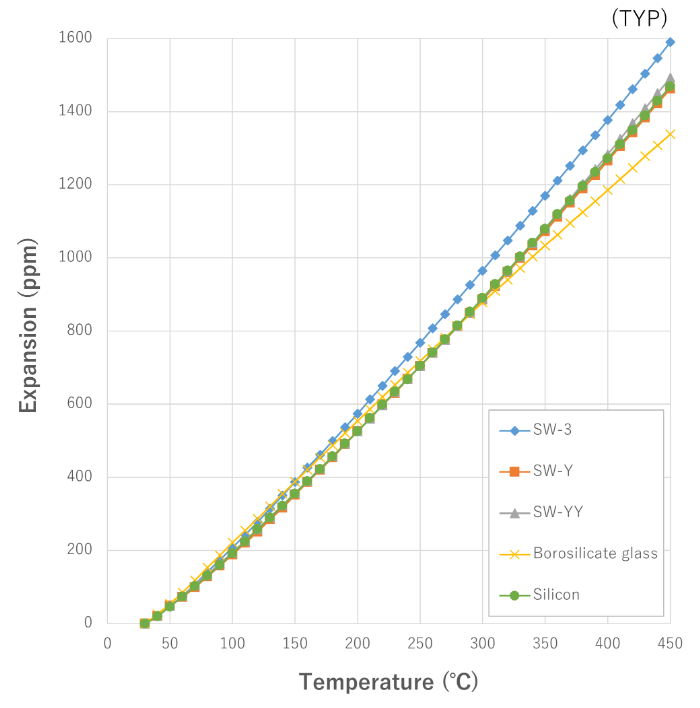 Difference in Thermal Expansion Coefficient Compared to Silicon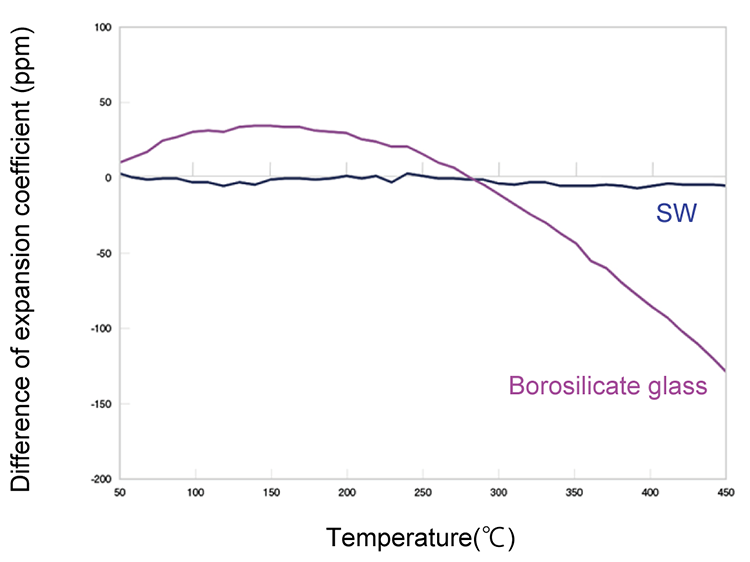 Machining Examples
Metal (gold, chromium, titanium, etc.) coating on substrates (basal plates), ultrasonic machining and sand blasting, as well as hole completion performed via etching, spot facing, and other types of machining